| | |
| --- | --- |
| Earth's Octant Highpoints | |
An octant represents one-eighth of the Earth's surface -
and each one necessarily has a highpoint (and a lowpoint).
Octants are spherical triangles, and, remarkably, have three right (90°) angles and three 90° sides - properties that guarantee them to be of interest for the avid trigonometricians among us.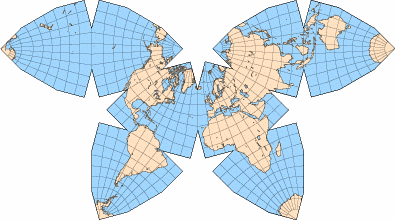 Octants used to portray Earth.
Boundaries are shifted 20° west
relative to the octants used here.
There are three degrees of freedom for defining an Earth octant system. Two of them are represented by the octant framework's symmetry axis; and one by the "meridian" selected for fixing their locations about that axis.
By far the sanest, most reasonable choice is to define the symmetry axis as Earth's axis of rotation; and the Prime Meridian (i.e. Greenwich, England) for the octant's meridional (longitudinal) extents.
There results four octants in both Northern and Southern Hemispheres. Within each hemisphere octants are delimited by the Prime Meridian (0°), 90° E, 180° E (or W); and 90° W.
The octant highpoint list for these eight regions follows.
Please E-mail the webmaster with any corrections, comments, and updates.
| | | | | | |
| --- | --- | --- | --- | --- | --- |
| Octant | Highpoint | Location | Latitude | Longitude | Elevation (feet/meters) |
| N 180 to 90° W | Mount McKinley | Alaska | 63° 06' N | 151° 03' W | 20,320 / 6,194 |
| N 90 to 0° W | Nevado Cayambe | Ecuador | 00° 02' N | 77° 59' W | 18,996 / 5,790 |
| N 0 to 90° E | Mount Everest | Nepal/Tibet | 27° 59' N | 86° 55' E | 29,028 / 8,848 |
| N 90 to 180° E | Namcha Barwa | China | 29° 38' N | 95° 03' E | 25,531 / 7,782 |
| S 180 to 90° W | Mount Sidley | Antarctica | 77° 02' S | 126° 06' W | 14,058 / 4,285 |
| S 90 to 0° W | Aconcagua | Argentina | 32° 39' S | 70° 01' W | 22,841 / 6,962 |
| S 0 to 90° E | Kilimanjaro | Tanzania | 03° 04' S | 37° 21' E | 19,340 / 5,895 |
| S 90 to 180° E | Puncak Jaya | Papua New Guinea | 04° 04' S | 137° 11' E | 16,023 / 4,884 |
---