| | |
| --- | --- |
| Hana Road and Lahaina | |
---
Sunday, February 23

he following morning I explored what Maui had to offer beyond Haleakala, a daunting task given that my flight to Big Island was the following day. I started by taking the infamous "Road to Hana" along the north coast. Presumably the most scenic coastal drive in all Hawaii, I found it to be thoroughly unenjoyable. First, it was raining the entire time. Second, the road twists and bends way too much for a driver to enjoy the scenery while simultaneously maintaining control of his vehicle. Finally, the scenery was unappealing compared with many views above the clouds while on approach to Haleakala National Park.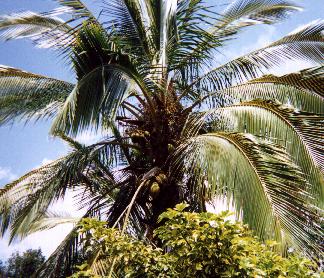 A coconut tree with immature fruit on the vine.

So I turned back halfway and then headed, via Kahului, to the swank town of Lahaina on the west coast. The scenic drive along route 30 was both dry and quite enjoyable - particularly so as I rounded the southwest coastline.

Every island in the Hawaiian chain has a rain gradient due to prevailing winds from the northeast. More rain falls on the north and east sides of any given island, than on the south and west sides. Sunlovers take note.

I enjoy gourmet food. Unfortunately it is quite difficult to prepare elaborate meals in the backcountry. One mitigating factor is the need to carry a minimum of fresh fruits and vegetables owing to their weight relative to the calories provided. Without fresh ingredients, meals are often packaged affairs that are rehydrated by addition of either purified water from a stream, or, in more alpine settings, snow melted from a glacier. A second factor that makes fine cookery difficult is the need to adjust recipes for high altitude.

This is one aspect of my climbing pastime that I have been unable to reconcile. So when I arrived in Lahaina around lunchtime I desired a sumptuous gourmet meal at either of a pair of well-rated establishments. Unfortunately one restaurant did not offer my desired entreé until dinner; the other restaurant did not open at all until then.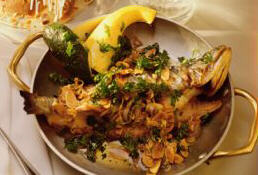 A skillfully presented
and delicious entreé.
Still craving a meal, at an outdoors food court I enjoyed grilled ono fish on a bed of greens (ono means "delicious" in Hawaiian); a small pizza with fontina cheese and smoked vegetables; and a pint of the local ice cream with the most delicious (and filling) macadamia nut flavors I have ever tasted - including "Kauai Pie" with macadamia nuts, Kona coffee and chocolate fudge ripple. The mango ice cream was delectable. I was full for the first (and only time) in my two and one-half days on Maui.
Since Lahaina did not offer any scenery or venues for a mountain-lover, I returned to the Hosmer Grove Campground and enjoyed the remaining few hours of daylight. After dark fell I ate a small supper, and again, as with the previous evening, conversed with a man who camped there owing to financial difficulty. I enjoyed his company as a rare treat since, when camping or climbing, there is little to do after sunset but eat, sleep, and, with ample battery power, plan a climbing route or read a novel.
---