Dancing with Denali 1,2

© July 2013 Adam Helman
Photographs courtesy of Dave Colley ("DC"), Jonathan Sugarman ("JS")
or Michael Theologos ("MT") where indicated. Mouse-click on them for enlargement. Text proofread by David Olson.
Michael Theologos' photo album

Warning: Photo album links may eventually fail
because their sponsoring companies can summarily
change their addresses without notification.
Notify me of any altered addresses.
---
Introduction

ount McKinley is enormous. Its local relief is 18,000 feet - more than any other mountain lying completely on a continent. To find more verticality one must consider the sub-marine base of Hawaii's "Big Island".

It is the highest peak on Earth for such a northerly (or southerly) latitude. Only Canada's Mount Logan comes close in this regard. Thereby the cold can be extreme, indeed, only Antarctica and the 8,000 meter peaks of Asia have similarly forbidding montane environments.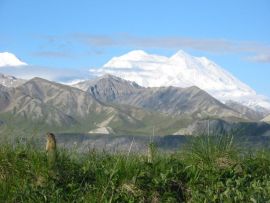 Mount McKinley from the lowlands
of Denali National Park.
Mount McKinley entails more elevation gain with more load-bearing than any other world class mountain, and largely because of double carries to reach the next camp.
All-told these observations make "The Great One" a serious mountaineering challenge, arguably, on par with far loftier peaks in the Karakoram and Himalaya.
Mount McKinley is the highest peak in North America at 20,320 feet. As corollary it is the United States, Alaska and Denali Borough highpoint. The superlatives continue... Mount McKinley is Earth's third most topographically prominent peak and third most isolated peak (defined as distance to the nearest higher ground - 20,774 foot Yanamax in China).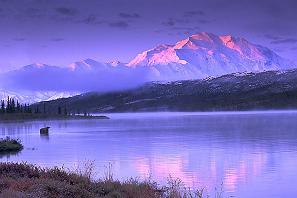 sunrise
I have demonstrated that Mount McKinley's pressure altitude at any specific elevation is higher than for other large mountains in their respective climbing seasons. The lower temperature is responsible, effectively compressing the atmosphere and thus lowering the pressure for a given elevation. This phenomenon directly diminishes physical ability and is noteworthy for any person wishing to assess their performance relative to other large mountains such as Aconcagua and Mount Everest.

singled out this behemoth twenty years ago as a proper end goal, one which at the time seemed an impossible challenge. In that span I've climbed well over a thousand mountains of "normal" stature, ranging from mere hills to the Western Hemisphere's highest peak. I reached the highest point for each of 414 counties in the 11 mountainous western United States - a 13 summer effort. A book is being written to commemorate this task... However Mount McKinley remained aloof and supremely distanced from these activities, both geographically and in sheer required effort.

Books, jigsaw puzzles and even a pickup truck's license plate later it was time for action. In 2009 and 2011 I failed to make significant progress on its slopes. It is only now in 2013 (the centennial of its first ascent) that a sizeable chunk of its challenges was successfully negotiated on a commercial expedition that promised and delivered relief from the enormous loads normally carried. For someone my size (all of 110 pounds) that is no small consideration - and when I learned of this option I "jumped" at the opportunity. I was even excited.

That West Buttress expedition is described here.

Executive Review

ur expedition commences in Anchorage June 9 and is to conclude June 30 - a 22 day total that's standard for a West Buttress climb. We use 21 of those days, 18 3/4 of which are spent in the Alaska Range. During that span nobody in our group, neither client nor guide, reaches the summit on account of truly bizarre weather rarely witnessed on America's highest peak.

Failure due to weather is the usual sad truth for McKinley expeditions. In our case there's a twist. Record warm conditions create a rockfall hazard in multiple locations. A freak thunderstorm at the very summit! Another team called it an "electric blizzard". Frightening? You bet.

The rockfall hazard forces our hand into climbing at the night's coldest hours even while on the upper mountain. I never anticipated this, resulting in my refusal to proceed on account of increasingly cold fingers.

**** I never envisioned failure due to high temperatures on the frostiest of American mountains. ****

Others turned back due to unresolved fear or injury. Those who did participate in SUMMIT DAY were left either exhausted by the considerable altitude or stymied by life-threatening electrical phenonema.

WE FAILED.

Nonetheless a volume of positive outcomes come to mind -
We worked together for 19 days in a rather unusual setting:
a remnant of the Ice Age with only rock, ice and sky as companions.
I am pleased to have passed this test of endurance.


Nature's handiwork is writ huge in Alaska. As such our experiences
were both accentuated and rendered all-the-more memorable.


I am very well-versed in trip planning, high-level organization, routefinding
and cross-country navigation. Plus certain unmentionable topics best left
to a private discussion. Climbing over 1,000 peaks has its perks...

However unlike my guides I am not expert in arctic mountaineering.
So I learned a bunch of new skills - perfect for continuing my quest of
attempting Denali more times than anybody else before succeeding!


I thought the food would not be up to my standard.
I was pleasantly proven wrong, and looked forward to each group meal
as the culinary and social highwater mark of our shared times.


"Edge of the World" overlook
near Advance Base Camp.
Most importantly (and in THIS matter there can be no argument) -
We all returned safely to continue our lives, realizing new
and different goals be they in the mountains or closer to home.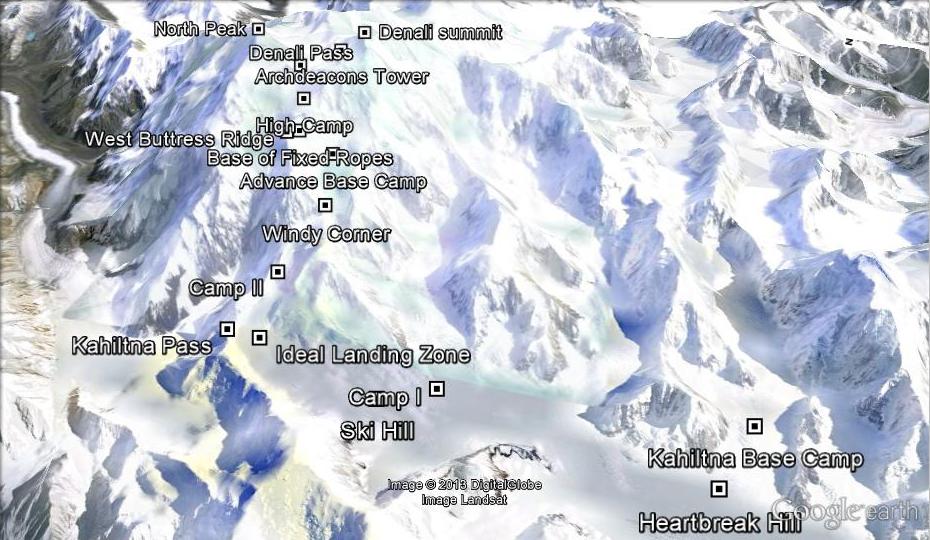 Mouse-click the above image or here to download a Google Earth file for dynamically displaying
all venues while in Alaska - both on the mountain and elsewhere.
To function, Google Earth software must be installed on your computer.

ount McKinley is a dangerous place. The clients, including myself, paid handsomely to have this issue mitigated through a commercial guide service. I write for everybody in appreciation of the lead guide's thoughtful decisionmaking; and the collective hard work of all guides who made our journey feasible.

Our expedition is not merely a sequence of events chronologically portrayed. Although most obviously and pervasively physical, it is replete with mental and emotional issues of such importance they too simply must be described.

Meteorological, social and gastronomic factors color the palette. Multidimensional - a microcosm for life itself, yet sharply focused through the exigencies of survival where no man was meant to sojourn.

Join us as we climb ever-higher in a surreal vision of snow and ice.

3

1 Mount McKinley is the officially recognized name of North America's highest mountain.
&nbsp In constrast, both the people of Alaska and the climbing community prefer the native name, "Denali".
&nbsp A consistent choice must be made. Thereby throughout this story I have chosen "Mount McKinley".

2 This amusing alliteration was used by Rick Hartman in describing his Mount McKinley climbs.
&nbsp I herein recognize Rick as its creator. 3 I will asymptotically approach the summit on future attempts,
&nbsp halving the remaining distance and elevation gain each time!
&nbsp As in Zeno's paradoxes, an infinite number of climbs should realize my dream. &nbsp Better still, I am providing significant income to the Alaska climbing community.
---
&nbsp Table of Contents
&nbsp External Hyperlinks
&nbsp * * * * * * * * * *
&nbsp * * * * * * * * * * * *
summitpost.org
&nbsp (route descriptions, lodging, transportation, guide service contacts)
peakbagger.com &nbsp (statistics and trip reports)
&nbsp * * * * * * * * * *
&nbsp * * * * * * * * * *
Expedition Equipment List (Adobe PDF document)