| | |
| --- | --- |
| Kuala Lumpur | |
---
his is merely a layover stage, twenty-four hours of "nothing in particular" prior to our trans-Pacific return flights. Kuala Lumpur has plenty for the tourist, and, had we traveled with that mindset would find enough venues to fill many a day. Even without such goals, our time there has some redeeming value.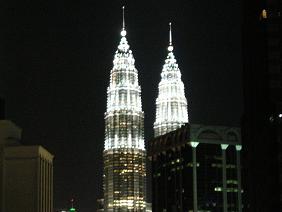 Petronas Towers by night
It is about 50 road miles from either airport, domestic and international, to downtown Kuala Lumpur. The taxi fee is fixed, so, unlike Indonesia, negotiation is absent. We have some hotel names in the Lonely Planet guidebook, and, after deciding that our first choice looks like a whore house, splurge by taking a $40 room in one moderately upscale establishment. Bob pays - and I appreciate the gesture.
At the check-in desk Bob gets a big scare in failing to locate his passport. Soon it is found in an unlikely spot on his person, and all is again well.
After spying the Petronas Towers one mile away, our afternoon is filled with cultural insights - beginning with a nearby food market where I enjoy (!) a durian ice cream bar and other treats. Durian is that intensely smelly fruit that is often forbidden entry into hotels lest the odor permeate every guest room via the ventilation system. Frankly, I've tasted better.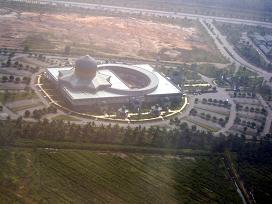 an enormous mosque,
Malaysian peninsula
We are downtown, and continue our walking tour, eventually entering a multi-story shopping mall that specializes in high-tech consumer goods - everything from PDAs to blackberries. Business is thriving.
On the street some men wear full-length white robes, adherents to Islam, and yet ironically use cellular phones as members of the Modern Age. Several women are clothed in burkas, their faces hidden from view as is mandatory in that faith.
It is a very cosmopolitan, crowded place - the antithesis of some barren mountaintop with only the rock and wind as companions.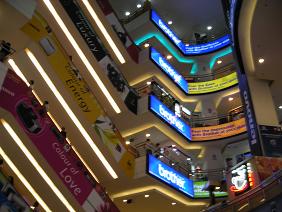 View skyward in a multi-story,
indoor shopping complex.
We have eyes on various restaurants, as eventually dinner hour will come, and there's an enormous variety of choices ranging from Chinese to Kentucky Fried Chicken. We fixate on a middle eastern restaurant, and sit down near a group of sports enthusiasts watching a soccer match on this wide-screen television.
The service is slow, but I don't really care since there's plenty of time. At one point the manager asks Bob if he is Iranian! Later we learn that the soccer match is between Iran and Australia - so explaining the origin of his question as he thought perhaps we had come to watch our "home" team.
This morning we hope to eat at Cinnabon, but it is closed on Saturday until well after we must leave for the airport. We default to a restaurant where coffee and doughnuts are enjoyed.
Our taxi ride is efficient, and we have plenty of time to explore the international airport terminal - certainly the most modern and user-friendly I have enjoyed anywhere. Fancy boutiques and stores abound, and I purchase a pair of large chocolate bars to completely use my Malaysian currency. The rum raisin variety is delicious.
Taipei's airport is nearly as nice, and the four hours spent there between our flights pass quickly. I buy a jar of spicy bean curd spiked with rice wine, and have been enjoying it on many dishes since. The jar is nearly empty.
Bob's camper is parked in long-term Lot B at Los Angeles and won't start. We get a jump from some lot attendant, and conclude my portion of the journey with a two hour drive to San Diego. Bob returns the next day to Flagstaff, leaving before I have a chance to say goodbye.
---