Appendix A - Transportation

---
n most journies faster modalities span the largest distances, ours being no exception. Nearing the mountain, our taxi or minivan reaches the closest town. Finally, hiking remains to touch or tread upon the highest ground.

Nine means of conveyance support our journies. Listed by increasing speed,
foot travel
horse-drawn rickshaw
inter-island ferry boat
airport monorail
airport shuttle bus
moped / motorcycle
taxi / minivan
train
jet aircraft

A family of four riding one motorcycle.
Air Travel

Bob and I fly Air Korea across the Pacific Ocean from Los Angeles to Seoul, South Korea. A computer display of our flight path entertains us for this long leg. Over the Bering Sea I avail myself of this lifetime opportunity to call someone from this, a seriously remote location that few ever attend - surprising my mother.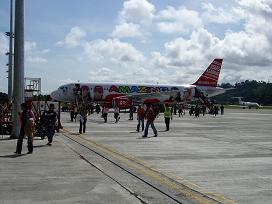 Brightly colored Air Asia
jetliner at Kota Kinabalu.
Meals come frequently, served by attractive, petite, very slender stewardesses in powder blue uniforms. They look nearly identical, and I ponder whether this uniformity corresponds not merely to Air Korea standards but also to some eastern philosophy of conformity above the individual.
Unlike domestic U.S.A. flights, alcoholic beverages are free - and I select on two occasions the mini bottles of cognac that otherwise would set me back $5 apiece.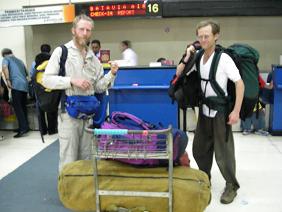 Batavia Air ticket counter
in Jakarta.
The six hour flight south to Kuala Lumpur, Malaysia is similar in nature yet thankfully one-half the duration.
Inter-island flights are on Air Asia, a discount carrier that services Singapore and all major cities of Indonesia and Malaysia. I exercise caution with "discount": excess baggage weight is charged beyond 15 kilograms per person. That's just 27 pounds - and we all endure this tax that largely cancels the otherwise low fares initially paid.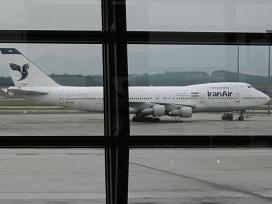 Native to Iran, this bird
is rarely seen in North America.
An annoying quirk is that Air Asia officially forbids passengers from eating their own food aboard flights. Instead, cheap food is available for purchase. For just seven Ringgit (about two dollars), one enjoys delicious spicy lemon chicken with rice. Ramen noodles, sandwiches, cookies, and beverages are available. My ubiquitous jar of sweets hides on the floor, and I eat some despite the prohibition.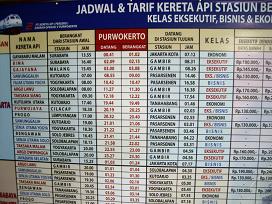 train schedule at Purwokerto, Java
The distance from Jakarta to Padang on Sumatra is large enough that we fly to avoid several days of cumbersome road travel. The Batavia Air flight is unremarkable. "Batavia" is the old name for Jakarta prior to Indonesian independence from the Dutch.
The return flights from Kuala Lumpur are on Air China, allowing Bob and I to visit Taiwan for the first time. As with the Air Korea flights, the service is refined compared with our collective domestic experience. The stewardesses are, however, distinguishable.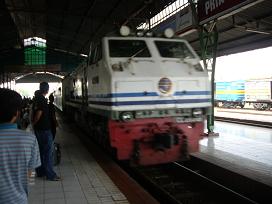 approaching train - Purwokerto, Java
Rail Transport
After Dodi abandons us in Yogyakarta, Robert has the most clever idea of taking a train west to Purwokerto for the next mountain. We travel "business class", and this proves a fun and productive experience since the rail car is spacious and the journey lasts some three hours. In contrast, hiring a taxi would have consumed nine.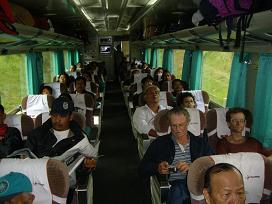 Executive class rail car to Jakarta.
Bob and Adam at lower right.
Our second train experience comes after Gunung Slamet when we require transportation to Jakarta the capitol. Our train has exclusively "executive class" cars with air conditioning. We endure a brief period of live entertainment as two male dancers masquerade as ladies for money. The $20 fare is worth every penny, and we arrive in the metropolis after six hours.
I highly recommend the rail system for traveling long distances on Java.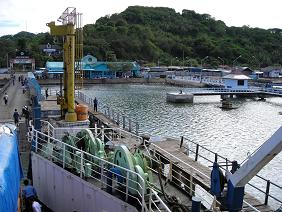 the Lombok to Bali public ferry
Ferries
Many of our inter-island hops employ the public ferry system. We are the only non-nationals, and our appearance invariably results in locals double-charging for tickets; all-the-while insisting on carrying our bags both on and off the boat for additional tips. The fare is dirt cheap; and so paying $5 for getting to Lombok instead of $2 is not a big deal.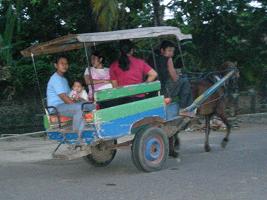 1 horsepower - Mataram, Lombok.
Our first ferry experience is by dark on Bali's eastern shores. Lombok is the goal, with Gunung Rinjani the island's highpoint. For an extra $13 or so we get steerage in the captain's quarters. By that means we can attempt to sleep without having to worry about guarding our bags. A fan does its best to circulate air - yet it is far too hot and muggy for a good rest.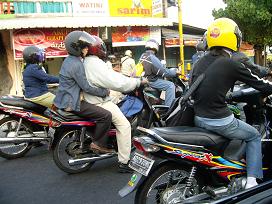 a forest of motorcycles
With each ferry the scam artists are less problematic. By the third ferry, west from Bali to Java, we pay no more than other passengers. Further, this crossing has a more organized infrastructure.
Tourists either fly between islands or take a high-speed catamaran with a limited schedule that would be inconvenient to our hectic travels.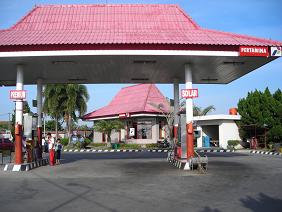 The nationalized gasoline
of Indonesia is "Pertamina".
Land Travel
Road travel within Indonesia is not enjoyable. Several factors are responsible, including the unregulated release of vehicle exhaust, and slow traffic owing to a huge number of motorcycles (they outnumber cars perhaps five-to-one). Often one passes through a village on market day, whence the main thoroughfare is jammed with street vendors.
On Lombok we ride a particularly bad minibus in which the seats are located on the vehicle's side instead of facing forward. There is no ventilation, and I become groggy as the exhaust fumes invite sleep - unintended gas poisoning.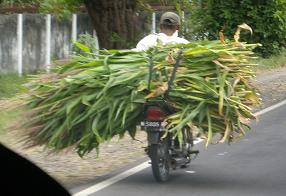 Bulky load going to market.
Later, on both Bali and Jakarta, we drive passenger cars that are hired out as taxis. They often have air conditioning, which is essential between 9 a.m. and sunset.
I take a privately-owned motorcycle the day before climbing Gunung Slamet, as the mountain guide and I ride into town to get beer for Robert and ice cream for ourselves. Shopkeepers and strangers alike are invariably amused to see a white-skinned foreigner speak Indonesian!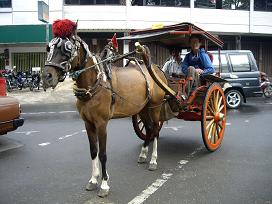 horse-powered rickshaw and Adam -
Bukittinggi, Sumatra
As guest of the mountain guide, I ride a moped after the Gunung Raung climb, saving about one hour of road walking to Sumberwringin village.
An airport shuttle bus ferries Bob and I from Lot "B" at Los Angeles International Airport ("LAX"), to and from the international terminal.
An airport monorail ("people mover") whisks Bob and I through Kuala Lumpur's International Airport after arriving from Sumatra.
In Sumatra I ride a horse-powered rickshaw all of 100 meters down the street as a novelty - so getting me to a travel agency for Robert and I to move forward one day the air travel date for Bob and myself to Kuala Lumpur. This sets me back one dollar.
---