| | |
| --- | --- |
| Gunung Lawu - an Easy Day | |
---
es, Lawu is a mere eight hour hike - round trip. However recall that it, along with all of our venues, are on the World Top 100 prominence list. That places Lawu, on a prominence basis, in the same league as Mount Shasta and Mount Whitney - peaks with obvious stature and significance in the contiguous United States.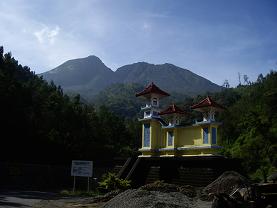 Gunung Lawu
Lawu is easy because a paved road takes one, albeit very steeply, to over 6,000 feet elevation - a rarity in our journey. The resulting net elevation gain is some 4,400 feet - by far the least amount for all of our climbs.
However that road is an issue. It is so steep on the eastern side that groups of people are seen walking uphill along its flank, in turn because their vehicle could not negotiate the grade with a full load aboard.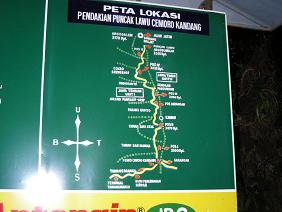 Route map at Lawu trailhead.
"U" signifies "Utara" - "north".
To address this issue, I suggest the following plan -
A. Deposit all of our luggage at the hotel, leaving Bob there as well. Drive the steep road, with only passengers, to locate and arrange for a guide to climb Gunung Lawu with us the next day. Descend to our hotel for the night.
B. At 5 a.m. drive the road with all passengers, including Bob of course, depositing us three at the road's highest point (and park entrance) for the Lawu ascent. The bulk of luggage, as everything but daypacks and some food, remains in the room.
C. Dodi then descends to the hotel, and, by 3 p.m., retrieves all of our luggage to negotiate the steep road a third time - yet without any passengers.
This plan works without incident.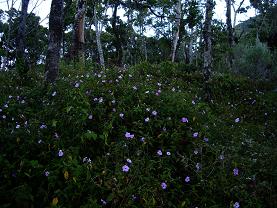 field of purple beauties
Our guide is truly superfluous, as the route is completely apparent. His English is good, and we summit Gunung Lawu after some four hours. We pay for his availability on the outside chance that we'd really need routefinding assistance - and, as we traveled so far just to summit, it makes sense to pay $20, and relinquish any pride, by going "guided".
Summit views are excellent, with few clouds on what appears to be a rare, dry mid-day for east central Java. I stand atop a summit pedestal for the camera.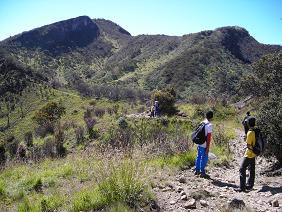 Lawu summit on left skyline,
less than 30 minutes away.
Bob and I take a side trip to this small Hindu religious complex 200 feet below and maybe fifteen minutes east of the summit. At best of only moderate interest to us, we soon descend the route of ascent.
The lower trail is most slippery, and likely due to a recent downpour. It is sufficiently tricky that I am leery of the final, lowest 2,000 vertical feet upon starting my descent: it is easy to slip and make an absolutely muddy mess of one's self on what is otherwise an enjoyable route.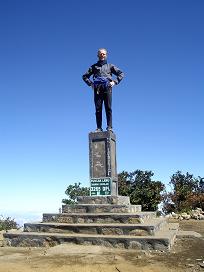 Robert atop summit pedestal.
At the base are throngs of tourists and food stalls. I wish that I could allow myself to partake of the food, especially this whole smoked fish, but I've read that such establishments may be untrustworthy - and I will not sacrifice future summit chances by getting sick. We settle for soda pops and street shoes.
That afternoon there's enough time to reach Yogyakarta with Dodi. With over a million people, it is one of Java's larger cities. We do not find a room until 8 p.m. - well after dark. Dinner choices abound on the main street - and we settle for a Japanese restaurant.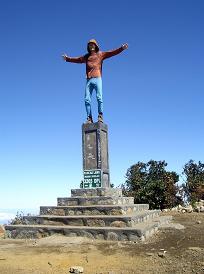 Adam atop summit pedestal.
I have no appetite. Further, eating a meal just before bedtime is unhealthy. Nevertheless I soon spot a unique menu item - Japanese "pizza", individual size. The sake rice wine makes me tipsy, and all of us partake in Robert's tableside-prepared stir-fry. I uncharacteristically forget what Bob orders.
That pizza has numerous spices, with something akin to smoked meat (bacon?) actually baked into the thick crust. It is absolutely delicious - so much that I order a second pizza as "dessert". Not being hungry - hah! You see, how much I eat is dictated not so much by physiologic need; rather, by what, if anything, is interesting or unique on the menu.
As always, we tell Dodi the previous evening at what morning hour his services are required. So it is a surprise to find Dodi absent at 6 a.m. We wait. And wait. Soon it is clear he is not meeting us - as should have been suspected when he stays at a different hotel.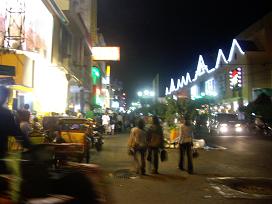 Yogyakarta at night
Robert notes we are on the main train line. Better still, a train departs west, in the direction we require, at roughly 9 a.m. This seems like good news - and it gets better. The train depot is reasonably clean, and helpful officials are all about to answer our questions.
After a doughnut and Milo breakfast (a chocolate malt beverage), we board the business class railcar and travel in relative comfort some three hours to Purwokerto - the closest city for an ascent of Gunung Slamet. A road journey would have consumed all day, perhaps nine hours; and would have, as we've experienced, been punctuated by slow traffic, exhaust fumes, and an inexhaustible supply of motorcycles. Hence, knowingly or not, Dodi's abandonment of us is actually fortuitous.
We hire a taxi for the two hour drive uphill to Bambangan, a village near the base of Gunung Slamet. The elevation gained is considerable, and, expectedly, we exit the vehicle under refreshingly moderate temperatures.
---