| | |
| --- | --- |
| Gunung Semeru - Java Highpoint | |
---
s the highest peak on Java, Semeru is one of our principal goals - yet another of Earth's Fifty Finest. The well-known mountain lies in Bromo-Tengger National Park, and much infrastructure exists to get one going.

We drive to a village overlooking Bromo caldera. At some 6,000 feet this tourist destination features excellently cool weather as well as ample rain. Dodi always acts as if our primary goal after a day's drive is finding a room for the night. I repeatedly explain that we came to climb mountains - and that the nature (i.e. cost) and identity of our hotel are nearly irrelevant.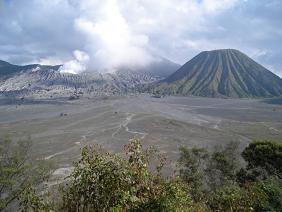 Bromo crater and caldera
So it is that Robert and I arrange for a guide with porters before entertaining thoughts of where to sleep. Bob sits back and lets us do the planning - Robert with his knack for locating important jewels of information from our guidebooks; and myself for communicating our desires.
Semeru is often climbed without guide, there being unsigned trails leading to the summit cone. Seated in a hotel restaurant table, our would-be guide, located by Dodi, insists on being included in our plans. We steadfastly refuse, and pay only for a pair of porters under his service.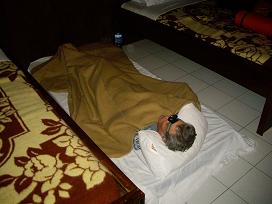 Bob takes the cot this time.
Another point of contention arises - at what hour do we begin the summit climb? The tourist concept of greeting the sunrise requires a 3 a.m. departure from high camp. However we don't want to negotiate volcanic scree at night as the footing is already precarious by full daylight. We suggest departing at dawn, but the guide vehemently disagrees.
Eventually we learn that the main concern is not reaching the top at dawn for its own sake. Solar heating bakes the volcanic sand to complete dryness, making it extremely hard to ascend. Night-climbing solves this.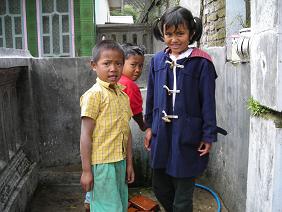 at Ranu Pani - the Semeru trailhead
Gunung Semeru is climbable over two days, with a high camp near the summit cone's base and some 1,400 feet below the treeline. However Bob does not want to "push" the schedule. We thus agree to using one of our four extra days padding the overall itinerary, planning a 2 1/2 day climb with a second night along the trail.
Dinner this evening is quite filling, and starts with a composed salad that I am assured has no health concerns. Normally one is remiss to eat salad, but it is obvious that our hotel serves foreigners who come to view Bromo crater and hike the trail system.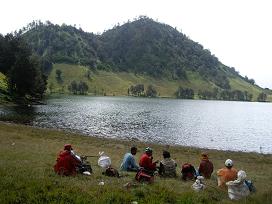 Lunch at lake enroute to high camp.
Back in our room it is finally Bob's turn to take the floor. Generally we have two beds to share, and so one of us ends up on the floor. Until now I have suffered this indignity the most, with Robert a close second. So Bob takes the floor.
Around 8 p.m. Robert and I return to the dining area for cups of hot cocoa, the richest I've ever tasted - more like hot fudge than a beverage. With cappuccino wafers the combination is hard to beat.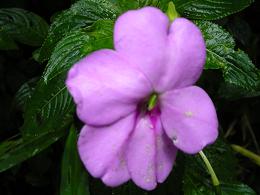 Hello!
At 5 a.m. a man with four wheel drive vehicle appears for the two hour journey to our trailhead - Ranu Pani village a mere one-half mile from the park headquarters where one registers for the climb. At 7,000 feet Ranu Pani is possibly the highest permanent habitation on Java. The ride, incidentally, consumes but an hour.
I shun the tasteless boxed "breakfast" provided by the hotel - unsalted, hard boiled eggs and plain white bread. Thus I eagerly enjoy hot coffee with chocolate (i.e., mocha) for all of 3,000 Rupiah (33 cents) at the only warung ("food stall") in town.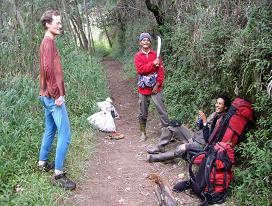 rest break - day one Semeru
Bob and Robert never tire of that bland breakfast, appearing to eat food simply because it is available without considering if they'd actually like it. In truth, and as he notes, Bob needs the calories to get up the mountain. Robert, however, just eats.
After a photography session, two porters and we three hike at 7 a.m. One porter has good English, and obviously knows the route as well as any guide. The other man is quite old but lean and highly fit. He has no English.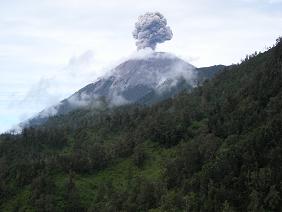 Semeru erupts.
When I write "guide", I do not mean a mountain guide as is commonly conceived - a well trained climber capable of leading on technical rock or snow and ice. Rather, I refer to a local man who is familiar with the paths on a specific, local mountain. This requires little skill, only experience based on multiple trips up-and-down the same path.
Much of the day is spent negotiating trail. Often narrow, nearly always muddy, the way is annoyingly wet from moisture clinging to vegetation on either side. It is much better on passing into open field, and, later, above perhaps 8,000 feet, the rainforest thins-out as we pass into the next ecosystem. One highlight is lunch at a beautiful lake where camp is often established.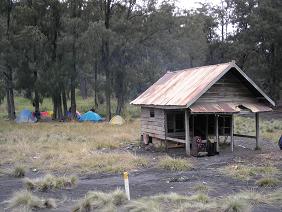 high camp, Gunung Semeru
We arrive at our high camp and erect both tents. The porters stay in this dank and filthy wooden hut that is ideal for staying dry. It drizzles on-and-off for much of the late afternoon and into the evening. We cook our meals under the hut canopy, and I am privileged to partake of the porter's meal as well - generally rice highly spiced with peppers and some vegetables.
After dark the porters, guides, and I enjoy my shortwave radio, listening to Indonesian music and other tunes that are 90% unintelligible to myself.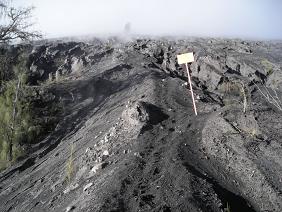 start of steep, sandy summit cone
There are also students sharing our summit goal, and the entire group, some dozen, always enjoy talking English for practice while laughing at my half-baked attempts at their native tongue. At one point some guide (as there are more residents of the hut than our two porters) offers me a plant root to sample. It is extremely bitter, and, exclaiming "PAHIT!" ("BITTER!"), spit it out immediately while everybody bursts into laughter.
It rains much of the night, dampening tomorrow's prospects.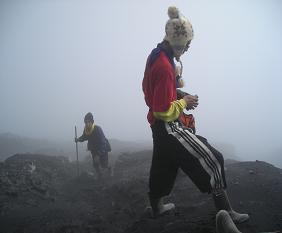 Two Indonesian teenagers climbing.
Note the rubber boots.
By dawn the rain has largely abated, and, with the porter's approval, we start uphill after waiting one more hour for additional clearing.
A steep 800 vertical feet later has us at the higher Arcopodo Camp. I cannot fathom why somebody would go there to sleep: that requires climbing much steeper terrain with a full pack only to reach a camp without water.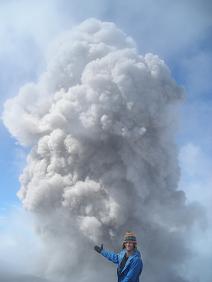 Adam and gas plume
as Semeru erupts.
Shortly after we reach treeline at 10,200 feet - whence the sand and scree slog commences. The way is steep, the footing nearly nonexistent - but the excitement level climbs with us. Our progress is aided considerably by walking staffs expertly constructed by the nontalking, other porter - a man who, we all suspect, is deaf.
Had it not rained the sand would have been even harder to ascend. The rain compacted the grains, making it easier to gain footholds. However on an absolute scale the footing remains difficult at best.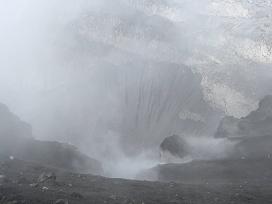 peering into the summit crater
Robert and I reach the broad summit under slightly chilly conditions (it is windy), with clouds competing with the sun for our attention. It is perhaps 40 or 50 degrees Fahrenheit, a typical daytime summit temperature for these 12,000 footers we are climbing.
Gunung Semeru emits a plume of hot gas and ash every 15 to 40 minutes, the exact time interval being unpredictable and seemingly random. The vent is perhaps one-third mile south, and there are signs clearly prohibiting closer approach.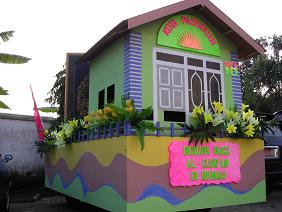 A float honors the Quran.
Bob and the English-speaking porter arrive, and a pair of Indonesian students appear. Bob is elated, and, after calming down, photographs me with an eruptive gas plume - a truly remarkable example of how, sometimes, "timing is everything".
The two porters enjoy smoking while we take in the vistas. It is a long way down to the steaming plains of Java, and we catch fleeting glimpses through the billowing clouds.
Atop every one of our peaks the sensation of great relative height is quite apparent. This feeling is not possible within a mountain range since other peaks, some perhaps just as high, lie within one's viewshed. However these volcanoes are freestanding summits - with consequent unemcumbered vistas.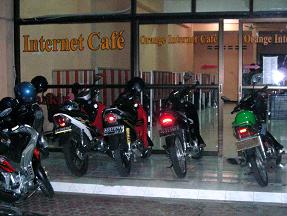 Internet Café by evening
The descent is uneventful, and, after breaking camp, we hike downtrail to the lake for a second night in the park. Dinner is, as usual, a pot of ramen noodles, free of the flavor packet, with a rich, swiss cheese sauce and tinned meat. A very sweet soy sauce (kecap manis - "sweet ketchup") adds zest to some of my portion, the tangy sauce contrasting the rich cheese flavor.
In the morning we hike out, some three hours, and, back at the village, treat ourselves first to dry street shoes - and then ice cream. For fifteen dollars I buy the porter's machete with waist belt, and, I swear, wearing that plus my dark glacier glasses makes me look somewhat intimidating.
Dodi appears (!), and we travel west for several hours to our next venue as Gunung Lawu. He does not even ask if we reached the summit, electing instead to discuss compensation for his services upon arriving at our hotel. Here, at a tourist resort, we rent the fanciest room of our entire journey for roughly $30. As a suite it is exceedingly posh, far more than expected when we conceived the trip.
Dinner is a happy affair, with a celebratory mood, as I enjoy a liqueur, perhaps arrack, as appetizer before the main dish - a plate-sized omelette (six eggs?) which I flavor with spices and assorted tableside edibles. That large, communal bowl of rice just does not excite me - but some of Robert's chicken kebabs certainly does!
The trip is going well. That said, Dodi is, I must say, a necessary evil in our current plans.
---