Appendix C - Food and Drink

---
ome Indonesian words sit well together - makanan dan minuman ("to eat and to drink"), a phrase epitomizing such inadvertent poetry. There's also ikan enak ("delicious fish").
Southeast Asian food is pedas ("spicy"), and may or may not be served panas ("hot"). It's easy to confuse "panas" and "pedas" as they sound so similar and have related meanings. Yet when reading a menu making such a distinction is essential.
We eat large evening meals, and no sooner since hiking and transportation largely preclude a sit-down affair until the day's activities are concluded.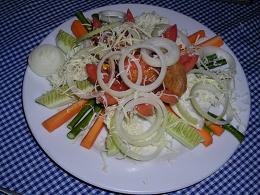 well-arranged salad as first course

For breakfast a boxed lunch is often provided by the hotel staff, and usually consists of sliced bread, hard boiled eggs, and some type of jam. When breakfast is eaten at the hotel there is additionally coffee and tea - yet no hard boiled eggs. I tired of this bland repetition quickly, yet Bob and Robert always take advantage of these eating opportunities.
On an overnight ascent breakfast sometimes consists of the same snack food as eaten during the climb (granola bars; cookies; dried fruit, hard candy). At other times we have western-style cereal with milk prepared from powder.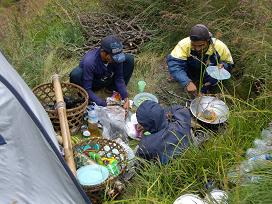 Guide and porters eating at
high camp on Gunung Rinjani.
Until supper we eat snack food individually, there being no schedule or plan for when to partake. I generally have lunch on the mountaintop, and this regardless of the time - be it 9 a.m. or 3 p.m.
While on-the-road a favorite treat is ice cream. I have a sixth sense for where the local freezer is found, and, after I point it out, Bob and Robert generally enjoy as well. A favorite, enjoyed first in Jakarta, is a small container of "hazelnut cappuccino" - chocolate ice cream with the flavors of coffee, cinnamon, and hazelnut.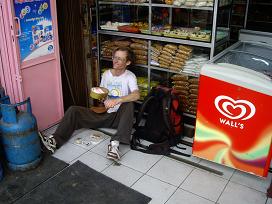 Adam enjoys ice cream in Sumatra
on his 47th birthday.
Twice I treat myself to a good amount of the frozen treat. The morning after descending Gunung Raung we enter a city large enough to support an Indomaret food store. The liter of chocolate gelato has hints of hazelnut and a whipped cream topping; and I enjoy it as others attend a bank to retrieve more cash.
The second time is, of course, on my 47th birthday in Bukittinggi, Sumatra. There, another substantial establishment sells neapolitan ice cream by the liter; and I most happily enjoy it seated outside while explaining to onlookers that it's my 47th birthday - in Indonesian.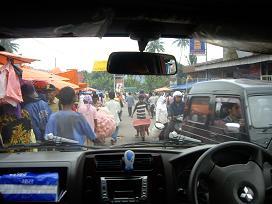 Market day enroute to Bukittinggi.
At the Indomaret chain we find western-style food for cooking supper on the mountain: our only chance to enjoy western flavors at dinner since while traveling we attend restaurants serving Asian-style food. I make a habit of cooking ramen noodles, without the flavor packets, and then create a sauce from slices of swiss cheese and milk (processed swiss is the only available cheese). After boiling this down to a thick consistency, canned tuna, chicken, or Spam is added - and this dish is enjoyed by all of us on several nights. It reminds me of home!
Supper is, as noted, a sit-down affair while we travel, and, as the food is quite cheap to a westerner, we often enjoy large meals for a song. Some astonishing examples can be cited, often filling ourselves with good food for only six dollars - total.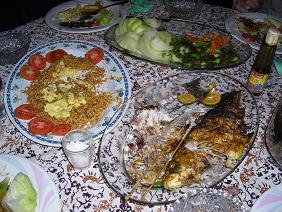 Remnants of baked fish dinner at
our homestay in Alahanpanjang.
Our generally favorite entrée is ikan bakar ("baked fish"). When prepared properly, the outside is blackened to perfection and the inside is juicy, literally falling off the scales. Indeed, most likely our best meal is at the homestay in Alahanpanjang, Sumatra. The entrée is ikan bakar; accompanied by french fries (Bob was craving potatoes); fried noodles; a huge plate of assorted boiled vegetables; and hot tea.
Bob also favors mie goreng seafood ("fried noodles with seafood") of obvious composition.
One tasty dish, usually as an appetizer, is sayur gado gado ("vegetables with a peanut butter sauce"). Often Robert and I share this, and, by the time the main dish arrives, we are still working on it. Once I enjoyed chicken with the gado gado sauce - absolutely delectable.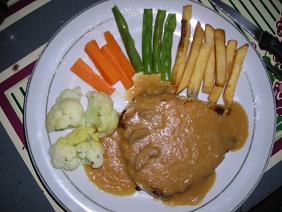 Chicken in a gado gado sauce
of peanut butter and spices.
In Yogyakarta we attend a Japanese restaurant. The sake rice wine altered my mood, and I share in some of Robert's stir fry which he prepares tableside with staff help. I eat this "Japanese pizza", an individual round of what appears to be dough, cheese, and assorted items baked inside and atop. I still cannot identify the special ingredients - all I am reminded of are smoked bacon and seaweed. It is surely the best pizza I've tasted in a while, and I order a second one as my "dessert". On the train next morning Robert and I each get a cold slice of this small yet thick mini-pizza.
In Kota Kinabalu after the ascent of Gunung Kinabalu we meet Dr. Ruhaizad Daud as his guests to a really fancy seafood restaurant. The meal is enormous since he orders dishes for all to share even though we individually order our own food. Despite the cold air pumped into the dining hall, I am drenched in sweat because I've been overeating. I would have enjoyed the meal more had I actually been hungry at the start!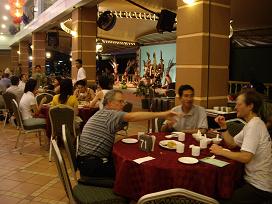 Dinner at seafood restaurant.
Dr. Ruhaizad Daud at center.
Indeed, while waiting in Kota Kinabalu two days for our flight, there is more food to enjoy than exercise. In fact, each afternoon we visit a Veda ice cream parlor to enjoy some truly delicious treats. On the second sitting I intentionally eat nothing, obstensibly to test my restraint as I watch Bob and Robert partake of my favorite food. The truth is that I cannot stay cool eating mid-day.
During our journey we at first wait until 7 p.m., right after sundown, to eat our main meal of the day. Later, as we travel west from Lombok to Bali to Jakarta (yet in the same time zone), I suggest that we switch to 6:30 p.m. and then 6 p.m. to accomodate the change in time of sunset.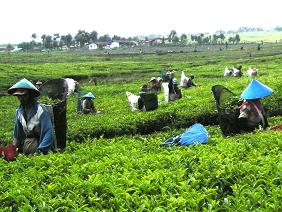 tea harvest beneath Gunung Kerinci
The night before Gunung Lawu my entrée is a giant omelette. I flavor it with hot condiments, and am pleased with the outcome.
At the homestay in Kersik Tua there is, as with homestays in general, no fixed menu. We are asked what we'd like for dinner - and at what time. Of course I request baked fish on one night - plus plenty of cooked vegetables. As I had fallen ill for a day, we spent an unplanned second night there prior to climbing Gunung Kerinci - and fried chicken appeared.
On return from Kerinci I suggest a different type of entrée altogether - a baked omelette. And what a job they do! It is a frittata of eggs and potatoes with spices, sliced into eight equal pieces (perfect for serving three guests). There are home fries (which Bob cannot resist), vegetables, rice, and tea to drink.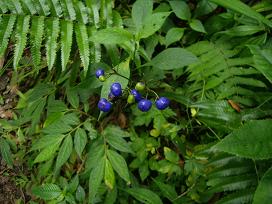 Blue mountain berries:
edible or poison?
A large bowl of rice forms the center of every restaurant meal. One is not expected to actually finish it. That said, Robert and Bob are often seen eating large amounts to supply energy for the next day. Without adequate means of flavoring the rice, I generally eat a smaller amount - if any at all. On occasion the rice appears on individual dishes.
Hot, sweet condiments accompany meals. These include a sweet, hot ketchup based on chilis, and a sweet, syrupy soy sauce that goes well with many a dish - including my swiss cheese noodles.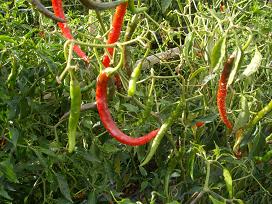 red and green chili pods on the vine
Beverages at suppertime include soda pop (often Fanta strawberry, orange, grape), beer (Bintang brand only), and water. Hot tea is always available. However the only "tea" I truly enjoy the entire journey is a drink of hot milk (or sweetened condensed milk) with ginger-flavored sugar. It is dessert-like in sweetness, and takes the edge off a spicy meal. Still, I wish that I could allow myself to drink a cold beverage - but, alas, that requires ice of dubious merit.
Vegetarians would not have a problem eating. However that baked fish is not to be missed!
Western-style fast food establishments are found in the larger cities - McDonalds, Kentucky Fried Chicken, etc... . Apart from Bob having a burger and fries at the Kuala Lumpur domestic airport we did not attend these venues.
Street vendors abound. Due to health concerns we avoid them despite tempting offerings.
Our evening meals prove more than adequate in composition, variety, and size - a highlight of our journeys. I am certain that had we the mind to, we could have enjoyed truly unusual fare in each city. However that was not the main point of our travels.
---