Appendix D - Robert Woodall's Trip Summary
---
Bukittinggi, 2 hrs N of Padang, Sumatra. 4.30 p.m.

ello all,

Following our Gunung Slamet climb we flew as planned to Padang, capital of the island of Sumatra, then made our way by road to Kersik Tua which is the key to the climb of Gunung Kerinci, the island highpoint and our fourth and final World Fifty Finest prominence peak. The climb was completed 9-10 July in good conditions. While it would be do-able in a day, a 2-day hike allowed us to reach camp before the afternoon rain starts (typically 1.30 p.m.) and to summit before the clouds roll in (typically 9.00 a.m. or soon after).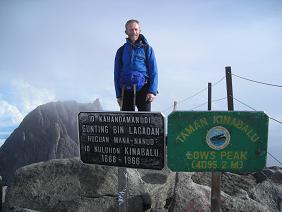 Kinabalu summit with Robert
It's a fine peak - compact summit perched above a deep sulfurous crater; pristine rainforest below, crammed with birds including 9 Sumatra endemics, one of which (Blue-tailed Trogon) I got close views of. We enjoyed a dramatic sunrise from our camp at 3300 m, and summitted just before 8 a.m. enjoying excellent views.
All our trip goals are now completed, including:
4 World Finest Fifty peaks;
3 additional Hundred Finest peaks;
5 of these are island highpoints;
Kinabalu is the Malaysia highpoint;
2 of these are also Seven Island summits,
as Borneo and Sumatra are among the world's 7 largest islands.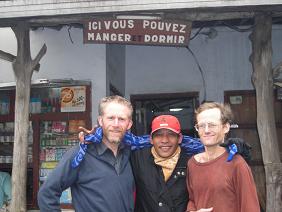 At Ranu Pani before the Semeru climb.
Today Adam and I climbed Gunung Marapi Sumatera, an ultraprominence peak just outside Bukittinggi. Well, sort of - we were led to a neat volcanic peak on the crater rim .... which is about 350 ft lower than the true summit, which we could see at the opposite edge of the crater, in forest. We did our best to reach the summit, but after half an hour of bracken-bashing got us a mere hundred metres into the scrub, we headed down.
Raung syndrome - and as with Gunung Raung on Java, the crater is well worth seeing even though we missed the summit itself. There are three separate active craters, all stained yellow and emitting the usual brand of sulfurous gas. "Summitting" at just after 9 a.m., we could see Tuesday's peak, Kerinci, 180 km away.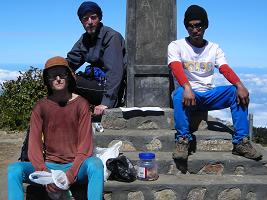 Adam (front), Robert (left),
and guide (right) atop Gunung Lawu.
As with Gunung Raung, it is questionable whether the summitpost authors recorded a visit to the true summit - we suspect not. Over here, summitting doesn't seem to necessarily involve the highest point of the mountain. This is evidently an occupational hazard with volcano-bagging.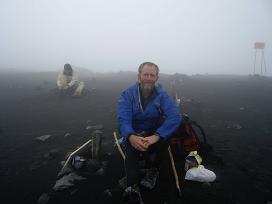 Robert - Gunung Semeru summit
We were back in Bukittinggi early this afternoon, and last time I saw Adam he was sitting outside a shop eating a litre of ice-cream, explaining in Indonesian to passers by that it is his 47th birthday today ... Those of you who know him will easily imagine the scene.
This reminds me, following the Kerinci climb, we got a good performance from Bob too - I have his "dance" captured on video and it is priceless. Me, I've just let the beard grow a bit.
Tonight we hope to realise one other trip goal - "hati ayam", alias chicken liver. Supposedly an Indonesian speciality, it has eluded us so far but tonight we think we've finally cracked it.
Tomorrow before heading for Kuala Lumpur and home, I plan to climb Gunung Singgalang - another Ultra and Marapi's sister peak. I am half expecting Raung syndrome to recur, but you never know, I might get to the summit. My world Ultras list currently stands at 19 and it would be nice to finish the trip on 20. I daresay Bob and Adam will update you on their stats in a few days time.
Bye for now
- Rob Woodall, Bob Packard, Adam Helman
---