| | |
| --- | --- |
| Gunung Agung - Bali Highpoint | |
---
he seaport is less than an hour's taxi ride. Somehow the driver gets confused, thinking our destination is on the opposite side of Lombok; and we embark on a lengthy drive that lasts nearly three times longer than it ought to. This is quite upsetting, and we vow to demonstrate our destination with a map to all future motorists.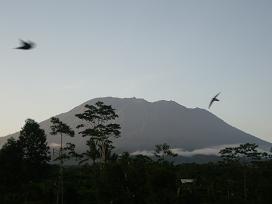 Gunung Agung and two birds.
As the ferry ride is by full daylight, we get to actually see islands as they pass by us. Near Bali the boat unexplainedly stops. We learn that some passengers are to be transferred from another boat; and we must wait for it.
On arrival at Bali we describe our goals to the throng of taxi drivers all too eager for our money. Gunung Agung ("Great Mountain") is the island highpoint; and we wish both lodging for the night near its base, and possibly a guide for its slopes the next day.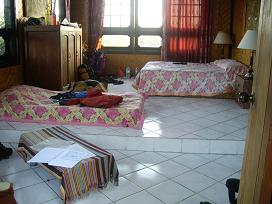 Our room before and after
Gunung Agung.
We strike a deal with one driver, and in short order travel in air conditioned comfort uphill and past several farms to a village with pleasantly cooler weather. Directed to a motel, the rooms are lavishly adorned, large, and far more than we expect for our travels. Such an opulent and spacious room would set one back $200 in the states. Here, however, the price is a mere 200,000 Rupiah - about $22 assuming the 9,000 to 1 exchange rate typical of our travels.
We are the only guests, and the hotel manager invites us to dinner at our requested hour of 6 p.m. He appears to be a one-man operation, both preparing the food and serving it tableside. The meal is delicious.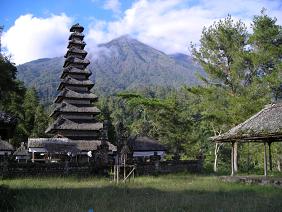 Hindu temple at Pura Besakih
with hill in background.
Agung is hidden - farther and higher.
Having met our guide, we arrange for a 3 a.m. meeting in the hotel courtyard for hot coffee and tea. This older man, a Hindu, has ferried clients to the summit dozens of times as a business venture. We hike with his friend, a 20 year boy who's never climbed a mountain in his life.
The route has no level spot for camping, and so is done in a single day with 7,000 feet of elevation gain and loss - a lot for one waking cycle.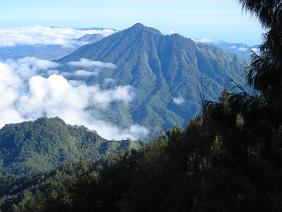 View west halfway up
Agung to another peak.
We begin about 4:30 a.m. in darkness from a famous Hindu temple complex. Climbing concrete stairs, we eventually stop after an hour for prayers at an open-air temple. We are each requested to make a wish alongside burning incense sticks thrust in the soil - and it's all-too-obvious what mine is!
The steps having disappeared, by first light we travel a jungle trail that is both steep in places, and slippery from mud. At times one uses tree roots as handholds, pulling yourself up often several feet to access the trail above.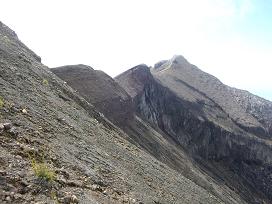 summit ridge - Gunung Agung
There are no intersecting paths to get lost. Thus the guide, who knows some English, permits Robert and I to continue ahead of himself and Bob. Meanwhile, Robert is intensely interested in birding, and so eventually the boy and myself are ahead of the pack. At 20 years he can ascend rapidly despite having no experience, and is both limber and agile.
A rocky outcrop punctuates the route at around 8,500 feet; and it is here, with the trail not altogether obvious, that my experience becomes important to find the "way up" without the guide's assistance. The boy and I "top out" above the rocky portion at perhaps 8,800 feet as we wait for Robert.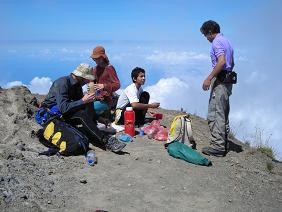 Summit siesta. From left -
Robert, Adam, boy, guide.
As a threesome we continue upslope on volcanic rock, no longer a muddy trail, steeply to the summit rim. The boy slows down, showing definite signs of fatigue and/or altitude. I also slow, but only slightly. Robert pushes ahead unabated. We reach a false summit and spy the true, higher summit some 20 minutes walk east along the rim. Descending perhaps 80 feet, we then traverse the final, uphill path.
Clouds remain politely below us, although they are slowly climbing from daytime heat. A huge ship is spotted on the ocean. Gunung Agung is basically at the coast. Hence the vessel appears well below the horizontal - presumably 9,944 feet beneath us.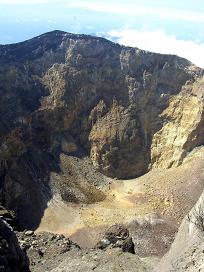 crater view at summit
It is a wonderful, fair weather day.
Bob and the guide arrive nearly one hour later, the view progressively hidden in cloud. The guide has carried a large Thermos of hot water, and we enjoy hot chocolate and tea in addition to our usual summit snacks.
We sit at the edge of a most impressive, deep summit crater. It is "scary" in appearance, with nearly vertical walls and a surrealistic, otherworldly character with reds, oranges, and other bright colors. The guide and boy offer Hindu prayers.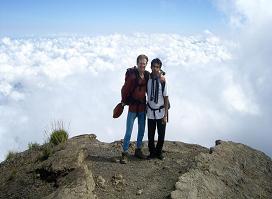 Adam and boy at
the world's edge.
Our descent is uneventful yet rapid. That said, I do not return to the temple complex, ahead of others, until 4 p.m. - with Bob and the guide arriving a full 12 hours after departure. Climbing and descending 7,000 feet in one day is a new personal record. I have ascended 10,300 feet in one day (at San Jacinto in southern California); but a ski tram assisted much of the descent.
We sleep in the same room as last night, and are treated to another fine meal by the hotel operator.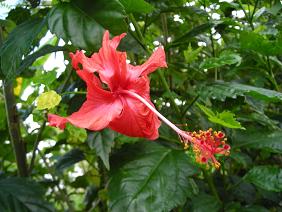 red orchid, close-up detail
In the morning we hire a taxi for the six hour drive around Bali's southern edge to a seaport on its western shores, the goal being a ferry ride to eastern Java and its pearl necklace of large prominence summits. It is Sunday, and the road appears more congested than expected for a non-work day. In truth, and as we are to learn, the congestion and motorcycle traffic are normal travel inconveniences for Indonesia.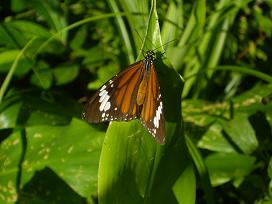 brown butterfly
We stop at an Internet café so Robert can inform the world of our progress. This he does on several occasions, and, logged-in as "Robert", Bob and I get to send E-mail messages as well. The café is terribly hot as the front door is wide-open; and the chain-smoking, emaciated young man in-charge demonstrates Indonesia's sanitation industry by throwing our empty soda cans straight out the back window. I peer outside and see a pile of trash underneath.
Eventually we make the west coast of Bali, finding the ferry system more organized than for the Bali/Lombok transit. We purchase tickets at the standard, cheap price without any haggling or confrontation. Further, we carry all of our belongings without porter aid. The 45 minute ferry ride is short, and we soon are once again accosted by a horde of taxi drivers on the far side.
This is, thankfully, the third and final taxi-to-ferry transfer we'd have to accomplish. I write this because we are heavily burdened with our gear, and the narrow metal stairs lead steeply up two flights to passenger seating: it is exhausting in the heat and humidity of sea level. Nobody else carries anything near as much; and, again, we are the only foreigners.
---