| | |
| --- | --- |
| Gunung Rinjani - Lombok Highpoint | |
---
he closed loop to-and-from Borneo complete, we embark on the larger, clockwise circuit defining the Indonesian component of our journies. Our point of entry is Denpasar, tourist-oriented hub of Bali. We won't leave Indonesia for 28 days, after climbing, minimally, and in order, the highpoints of Lombok, Bali, Java, and Sumatra.

On arrival at Denpasar we run the gauntlet of Customs, noting a sign that smuggling illicit drugs brings the death penalty. That seems severe punishment - until one recalls that Indonesia, as with Malaysia is largely Muslim. Bali is a Hindu haven, and there are Christians and Chinese in smaller quantities scattered throughout.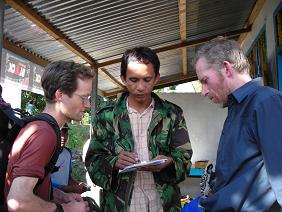 Negotiating a price for Rinjani.
Repelled by thoughts of beach bathing and snorkeling, we shun Denpasar and take a private taxi immediately up the east coast for catching a public ferry to Lombok. Arriving around midnight, we are accosted by a horde of men wishing to carry our sizeable luggage for a fee. One, surely their boss, sells us tickets at what appears a reasonable price - less than $5 apiece in the local currency - the Rupiah.
Not a tourist in-sight, and seemingly without an "official" structure, we have no recourse but accept this offer. After boarding, the porters insist on tips that we reluctantly provide. On subsequent ferry transits we become increasingly savvy, bargaining for our tickets while carrying our own gear.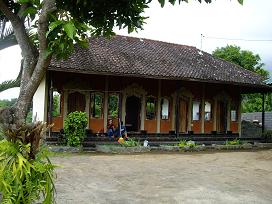 lodging before Rinjani
The public spaces will not permit a good rest; and so we "purchase" steerage in the "captain's quarters" for some $13 - a private room allowing us to guard luggage without having to remain awake.
The overnight ferry consumes five hours, and we sleep uncomfortably on bunk beds with an electric fan trying desperately to agitate the humid, hot air. A walk on-deck is refreshing, with the sea breeze from our forward motion providing better ventilation whilst the Milky Way shines above.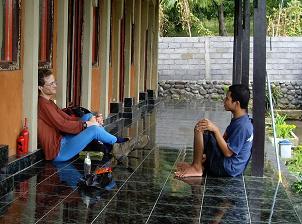 English / Indonesian lessons
On this crossing I get my first real opportunity to use Indonesian, buying cold drinks from a small food service near the public seating area one deck below.
At Kinabalu Park, and, of course, at the various airports, we are not afforded the opportunity to taste the local culture - they are too commercialized and tourist-oriented. However, this public ferry lacks any hint of catering to foreigners. Tourists travel by daily flight or high-speed catamaran to Lombok, itineraries that did not allow us to "save" a day by reaching Lombok overnight.
I am amused by the utter transformation in my world experience by this ferry ride - here, under the equatorial sky, we are truly "off the grid" insofar as what westerners generally see and do: and it is gratifying.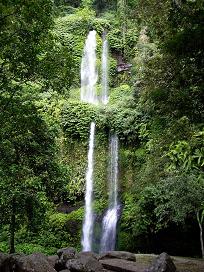 nearby waterfall
We disembark about 5 a.m. in darkness, hiring a minivan for a three hour ride around Lombok's west and north coasts to Rinjani National Park.
Indonesia is not as well-off as Malaysia, and so, as with Mexico and the U.S.A. there's a continual stream of illegal workers who wish a better life in the wealthier land. We see this economic divide starkly revealed on driving through the Lombok countryside at first light.
Lombok is even "more Muslim" than Indonesia in general - over 90% adhere to the faith. At 5 a.m. the call to prayer is heard as we pass through villages large and small enroute to Rinjani.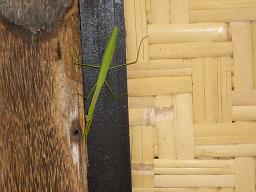 giant, stick-like grasshopper
The mountain is shrouded in cloud, which is unusual, we are told, for what is supposedly the dry season. Apart from being right upon it, we never see the summit for the entire climb; and only get a glimpse of its considerable height on returning to Mataram, Lombok's principal city, after the ascent.
As with Gunung Kinabalu Park, there is an infrastructure for hikers to climb the mountain, with business managers who know English; guides and porters do the real work. However there's a big difference: here you negotiate the price.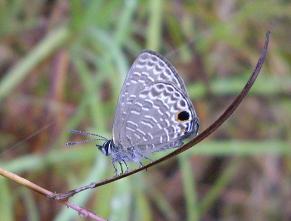 butterfly
As seasoned peakbaggers, Bob, Robert, and I come with all of our gear, and much food. The only item we lack is fuel because of airline restrictions. In contrast, all quoted rates for hiring a guide (which is mandatory) are based on providing the client everything needed for the two- or three-day climb. We thus insist on a discount.
We deal with a man who's only interest is making money. And so with a free afternoon he recommends a ride to some waterfall for $20. We decline, realizing that one can walk all of 100 yards to the fall from up the road. We explain that all we want is the summit, and that everything else - yes, everything, is irrelevant to us. He is upset that we refuse all of his "tour packages" to fill-in our afternoon. Tough.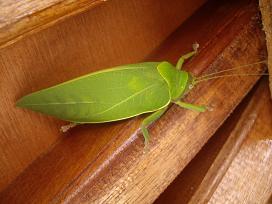 leaf-imitating grasshopper
At the entrance to our cottage I have a lively dialogue with one 17 year old boy. It is hard to speak with sufficient fluency to make myself understood as he tries to improve English skills.
Dinner is excellent at an unexpectedly fancy place up the road. One highlight is the vegetables "gado gado" - the rich, peanut butter-based sauce that appears on many a menu during our travels. Robert, as always, has a bottle of Bintang beer. Fried chicken comes as a less crispy, less filling variant of the American rendition, and I find that the gado gado sauce goes well with "just about everything". We dine cheaply and completely, an excellent combination indeed.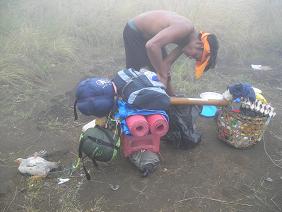 Porter with load.
The twin bundles balance.
Our ascent of Rinjani commences by morning at Park headquarters. Initially on a jeep road, we hike through fields of tall grass. With rising altitude the weather gradually deteriorates, and the road, long gone, is replaced by a foot path as we travel steeply up a slope for roughly 2,000 vertical feet. Robert and I are doing fine, apart from the dripping weather, and Bob plus the porters and guide arrive somewhat later.
The guide knows some English, while the porters know very little if any at all. It is interesting - a porter "graduates" to guide status by learning English, and with it a higher salary. Porters and guide are usually in their twenties, male, and invariably smoke at every opportunity. They are short, lean, and in great shape - so it's a pity that, knowingly or not, they are slowly killing themselves with this terribly nasty, national pastime.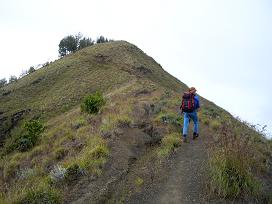 Adam ascends a hill to high camp.
We top-out the hill at about 8,500 feet and enjoy ephemeral glimpses into the lake-filled crater. The view is hindered by clouds, with much wind, blowing up from the crater.
We continue along the ridge to about 9,000 feet and stop at the standard high camp location. Normally tents are erected on the ridge. However the wind is strong, and there are breaks in the foliage some 20 feet below the ridge, on the leeward side, for erecting tents without much wind at all. Bob, arriving later, has little choice but erect his tent on the ridge in the wind's full fury.
Another group erects their tents nearby, and, in addition, we meet some "through-hikers" coming up from the lake on their way down our route of ascent. Indeed, we were given the option of a climb that takes-in the lake for an extra day's effort. However, again, all we really want is the summit - an attitude that shortly would become all too apparent with our guide.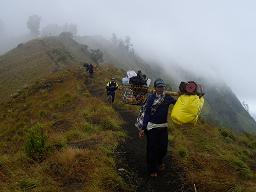 porters on-route
Morning arrives - and with it no improvement in the wind. The guide is reluctant to climb with us the final 3,000+ vertical feet, citing poor visibility and high winds. We start anyway, and conditions transition from marginal to worse as we ascend.
The route wends around volcanic rock and foliage until perhaps 1,500 feet below the summit. At that point the ridge is devoid of obstructions and vegetation, such that nothing lies between one and a barrage of thick cloud, with much wind, ascending from the crater. My gloves are soaking wet even though there's no actual rain - the unenviable and numbing result of 50 miles per hour winds driving moisture-laden clouds into our sides.
For the first time, ever, I remove my eyeglasses and climb without them - as they are so plastered with droplets I cannot see. In this fashion I ascend, staying three to five feet behind somebody else to stay on-track.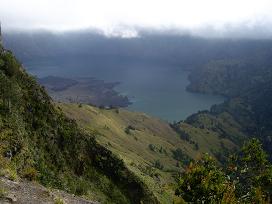 Rinjani crater and lake
The wind is at times so strong, when gusting, that we must pause with two feet solidly planted, to avoid getting blown sideways. The guide refuses to continue, citing danger - and, of course, he is correct.
Gosh, folks, we did not travel literally halfway around the globe to get turned back by some fierce winds. This goal of ours, an Earth Fifty Finest summit, deserves perseverance going well beyond what most would deem a "reasonably concerted effort". So Bob continues anyway, disregarding the guide's exhortations, and as described in the section "Crux Moments" of the Introduction.
We indeed summit, and, in the moment's haste, I fail to secure a summit elevation GPS reading for the prominence community. Indeed, my fingers are completely numb, and, in a rocky windbreak some 50 feet below, require assistance to remove one glove and replace it with a dry one. I need to wear wind shells, as if on some icy peak in the Cascades or even on Denali, just to keep my hands warm.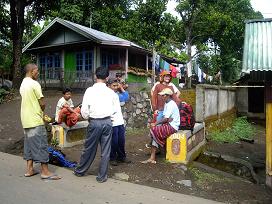 Waiting for transportation after Rinjani.
The wind dies down on reaching foliage, and, by camp, conditions are somewhat tolerable. After some serious snacking camp is deconstructed and we descend, unfortunately in heavy rain, nearly all of the elevation gained - camping under a concrete bridge that once carried road traffic before the jeep trail was relegated to pedestrians. The rain leaves us soaked, with our Gore-Tex apparently inadequate against the tropical downpour. After erecting our tents the next item is changing into dry clothes which, most fortunately, all of us have brought.
We enjoy our favorite backcountry pot of ramen noodles in a homebrew swiss cheese sauce, to which we add Spam for protein and variety. I am tasked with cooking supper, a chore that I actually enjoy.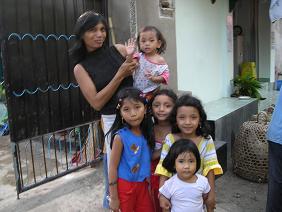 in Mataram, Lombok's capitol
In the morning the guide and porters treat us to fried banana fritters. I get bored easily with the same taste bite-after-bite, and so add both chili pepper and swiss cheese to finish my ab libitum portion.
We complete the descent using a different route that ends at a village roughly 500 vertical feet lower than the Park headquarters. We were offered the option of ascending this route, but discarded it in favor of the path with least elevation gain. That may have been a mistake, for the village-based route is far the shorter.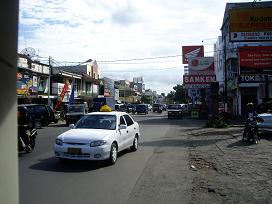 downtown Mataram
We pass by onion fields tended by local farm women, chickens on-the-loose in an alley, and then break out onto the main road. I sun-dry my clothing and take a fresh GPS reading amidst a half dozen onlookers devoid of any English. I explain my actions, assisted by sign language (pointing skyward), and everybody crowds around the unit's face to see bars darken as satellite signals are acquired.
These villagers - short and very dark-skinned, are invariably friendly and curious about us. We are indeed a sort of novelty to them, as they rarely see, let alone talk to, foreigners from afar.
We acquire a minibus, of the unsavory type with side-facing seats and no ventilation, and head for the capitol, Mataram, for the night. Ice cream highlights the afternoon after we locate a room; and, again, supper is best enjoyed after sundown.
---