| | |
| --- | --- |
| Gunung Raung - East Java | |
---
f Kinabalu's infrastructure is the most entrenched, Raung is the least such. In fact, there is no local individual, let alone organized effort, for ascending this impressive volcano near Java's eastern edge.

That information is hard-won, and contrary to the claims of our taxi driver, Dodi, who seems all-too-willing to wisk us wherever is required... for a price. A businessman at heart, this chain-smoking man has "connections" throughout much of our Javanese travels; and, with modest English skills, appears ideal for our purposes.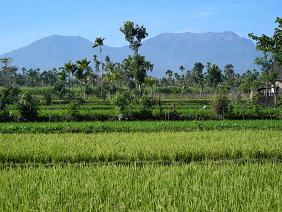 plantation fields and Gunung Raung
We aim to climb at least four large Java volcanoes, from east to west; and none of these venues are serviced by public transportation. Hence private carriage, and, for sake of our sanity air-conditioned at that, is mandatory. At the ferry dock Dodi won-out over other taxi drivers, and, for better or worse, he is "ours" for the duration.
Coffee plantations abound near the mountain, with associated accomodation for the night as well. Surely the dream of coffee lovers world-over, sampling freshly brewed Java coffee right on the premises is at-hand. The first coffee cup I have is actually back on Lombok while negotiating a price with the "boss" for our Rinjani climb. It reminds me of espresso in its rich, intoxicating aroma and flavor. So strong, I diluted the cup with enough water to fill a liter bottle, reserved for the next day's climb.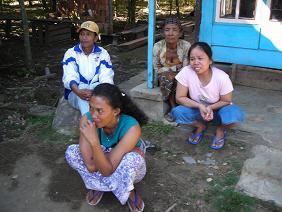 family members in
Sumberwringin village
In like fashion, Dodi and I gather chairs and negotiate a price for the next day's taxi ride, allowance made for waiting two entire days so as to retrieve us after the climb. This is necessary because, as noted, there is no public transportation. Such wheeling and dealing is expected in these parts, and begins with a low offer by myself that is shortly countered by an intentionally high offer from Dodi - the adversary who, again, does not care about our successes - only his money.
Eventually a deal is struck, and generally near the arithmetic average of the original, intentionally low and high offering prices. With an insincere handshake, Dodi continues to smoke while I finish the hot tea.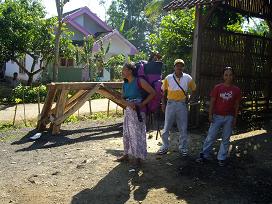 trying an overnight backpack

That evening features a set course meal in the banquet room, and I am seriously dismayed to learn the food has been sitting, getting cold, well before the staff calls us to eat. I hate eating a multi-course meal with all the food served simultaneously, rather than in the western tradition of courses served in succession. The food gets cold and, without a microwave oven, there's no way to reheat it. On the plus side, the meal is varied with plenty of protein (fried chicken), carbohydrate (potato fritters and the ubiquitous rice bowl), vegetables (as soup), and the like.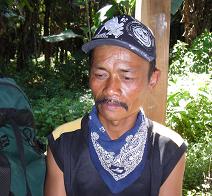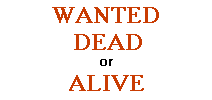 In general Robert finds that Bintang beer, Bob drinks room temperature soda pop, while I find neither to be of interest: I simply don't drink because the water is untrustworthy. Robert generally eats more rice than Bob, who in turn eats more rice than I. Without a simple means of flavoring this extremely bland dish, I refuse to partake - and there is sometimes, as tonight, neither chili sauce nor condiment of any type available.
In the morning a two-hour drive brings us to Sumberwringin, a village on the north side of Gunung Raung. Dodi claims to have knowledge of a local guide, and we stop at a private home where inquiry is made. He is a complete liar! The women of the extended family laughingly try on my overnight backpack and mockingly make gestures as if walking strenuously. The man of the family appears, and claims to know a route up the mountain.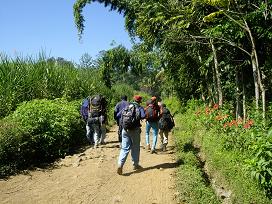 roadwalk at start of Raung climb
We hire him, and two teenagers that may or may not be his sons, to act as porters for carrying water to a high camp that evening. Having none of their own, these locals must use our overnight backpacks, an ominous sign indeed.
Soon it's apparent that none of them have any relevant experience. Worse, neither our "guide" nor his entourage know an ounce of English. I am thus tasked with translation duties; and this, coupled with their ill-knowledge of how to act on a hike, provides me considerable emotional stress.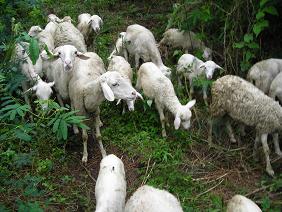 sheep near Raung's base
After securing plenty of bottled water twenty minutes up a gravel road, we continue through a combination of jungle and farmland up increasingly faint paths. The road could have been driven with any vehicle. Indeed, some three miles of road can be driven, a fact that should have been made known to us.
The "guide" is lost. Feigning experience, he tries another path which quickly dead-ends in a tangle of foliage. Worse, he is a primadonna who refuses to either admit error or even accept advise - a little Napoleon who, unlike that great leader, has neither charisma nor intelligence.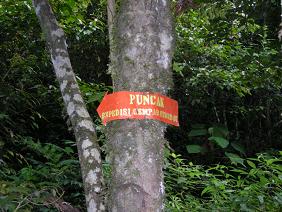 sign, "PUNCAK", bolted to tree
At one point while stopped to ponder the route, our "guide" (henceforth "Loudmouth") shouts at everybody as if to say, "I am boss, I know what I'm doing. Shut up." Viewing this, Bob, situated behind Loudmouth, mocks him by pointing in numerous directions as-if a battlefield commander giving orders. Robert and I snicker and get a good laugh out of this.
Shouts are made through the jungle to where villagers are working in an open field. The call is answered by a man who, most fortunately, seems to know what he's doing. We hire him for a price to continue with us, which he gladly accepts; and insist that Loudmouth leave as he has failed to provide adequate service. Loudmouth refuses, and we continue uphill on a path that every once in a while has a sign, "Puncak" with an arrow. Puncak signifies "summit", at least we believe - a most promising indicator.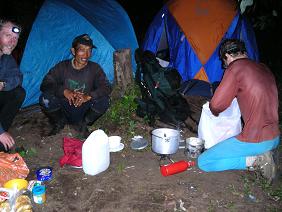 Preparing supper at night camp
high on Raung's north slopes.
We ascend through rainforest, very primitive indeed. At one rest stop the boy porters open a backpack and attempt to operate a stove for heating food. Robert wrests it from their hands, while I explain in Indonesian that we cook only upon reaching camp. Their ramen noodles are eaten cold.
Loudmouth tires significantly and is soon unwilling or unable to continue. However he refuses to depart, so creating enormous tension. A shouting match ensues, and I am tempted to beat the crap out of this jerk: not only can he not guide, he is now hindering our progress while refusing to admit it.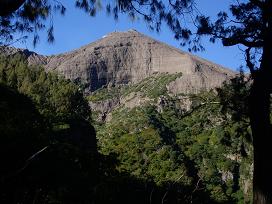 part of the north crater rim
We find the only way to get rid of Loudmouth is to pay cash for his "services". We refuse to provide the entire promised amount as he failed to perform, and he receives compensation that, although a pittance to a westerner (maybe $15), surely is a good amount in his mind.
On seeing this one of the boys leaves, the other boy having not yet caught up with us. Yet, when he learns that both Loudmouth and his brother have gone down the mountain, he panics, drops his backpack, and runs downhill after them. It is as if they believe mountain spirits inhabit the area, and they are afraid to stay the night, in darkness, lest evil befall them. "Unbelievable".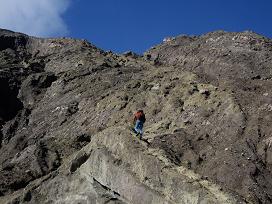 Volcanic terrain and Adam below rim.
Route is exposed (vertical drop).
We are now overwhelmed by pack weight. Robert carries the lion's share, and, fortunately, there's a level spot for camping perhaps 500 vertical feet uptrail. After 20 minutes of most laborious travel we stop for the day, having gained roughly one-half of the 8,000 feet needed for a proper summid bid.
Two tents are pitched in close quarters; I cook the meal, with multiple courses, while a combination of Indonesian and sign language enables communication with our cooperative and knowledgeable guide. He shares my food, and my tent, using just a green shawl for warmth. So ends what is surely the most stressful day I've ever had on-trail.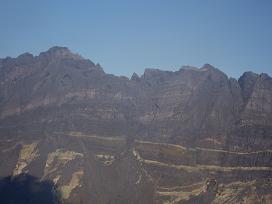 The true summit - unattainable
from the north rim.
With high hopes and after western-style breakfast cereal we continue at 5:30 a.m., in darkness, uptrail. After a few hours the foliage gives way to volcanic terrain; and, shortly thereafter one must carefully choose the route as it passes over tricky rock formations with at times significant exposure.
Robert and I are, as usual, well ahead of Bob and the guide. Let's recall that Bob is seventy years of age. Thus I view his performance as a greater accomplishment than mine or Robert's - indeed, truly remarkable. The summit ridge is near us, and we eagerly reach it after perhaps three or four hours climbing.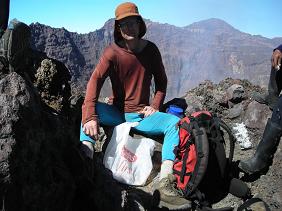 Crater rim with Adam none too happy.
A feeling of deep disappointment envelops me - the ridge is unclimbable and we are not at its highest point. Peering across the abyss of an enormous, two kilometer crater, the true highpoint lies diametrically opposite on the mountain's south side; and, from my GPS unit, is roughly 450 feet higher.
It is impossible to reach that point from our location - the crater walls are vertical and reach down 1,500 feet to a sulfurous pit with a small, central mound: a more spectacular crater I have never seen!
The summit ridge is pinnacled throughout, Class 5, and suicidal without a rope. So we climbed 7,800 vertical feet for basically nothing but a view into the crater.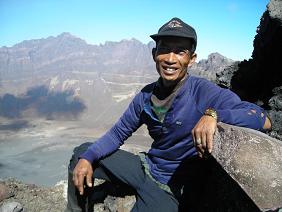 Crater rim with guide
wearing Adam's sweater.
How can this be? Where's the error in our ways? This mishap (and that's not overstating the case) occurred for several reasons related to misunderstanding and lack of information. "Misunderstanding" because "puncak" supposedly means "summit". Later we learn that "puncak" also signifies "viewpoint" or, even more confusing, "rim". In these parts, perhaps people consider a successful summit bid as one that merely reaches the crater rim. To a mountaineer that definition is plain nonsense.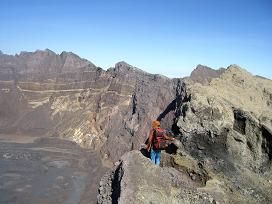 The summit crater and Adam.
Higher ground is left.
"Lack of information" because it is only after our journey that I learn from private communication that Raung has only been climbed twice, each time from the south and over a route with serious technical climbing near and on the crater rim.10,11
Quite disheartened, we descend, break camp, and find ourselves at Sumberwringin by nightfall - a very long day. Once near the road I take a ride on the guide's moped as passenger, reaching his family's home with hospitable wife and family in-time for coconut and banana-based snacks before Robert and Bob arrive. The guide is extremely pleased with 300,000 Rupiah - about $33 - likely a month's wages.
Over a dozen people gather round to hear (and laugh at) my poor Indonesian, asking me questions I don't understand only to laugh aloud by my confusion.
Dodi arrives and I depart with that green shawl for all of five dollars. We spend the night at a hotel in the nearest significantly-sized community.
10A description of how to climb Gunung Raung from the south.
11An account of successfully climbing Gunung Raung (in Indonesian).
---