Appendix E - Bob Packard's Trip Review 11,12

---
elow is an account (nuts and bolts version) of my prominence bagging trip to Malaysia/Indonesia, June-July 07, with Adam Helman (San Diego) and Rob Woodall (England). I made the call for companions. Rob, then Adam answered the call.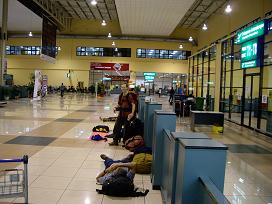 June 12: Kuala Lumpur domestic airport
before the Borneo flight.
Adam did most of the planning and took it upon himself to learn more than enough Malaysian/Indonesian to "get by". Lest anyone underestimate the value of this I point out that the only prearranged segments of the trip were flights to Kuala Lumpur, to Kota Kinabalu (Borneo) and back, to Bali and from Kuala Lumpur home. All other flights, as well as ferries, trains, lodgings, meals, taxis, vans, porters, guides, were arranged on a day by day basis. Ability to communicate in the local language was almost always invaluable (culturally and otherwise) and in some cases practically essential. At times Rob and I watched in admiration as Adam "went to work".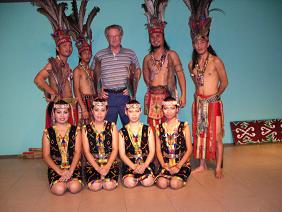 June 14: Dancers with Bob at
seafood restaurant in Kota Kinabalu.
Rob was a genius in picking nuggets of information from Lonely Planet and sometimes seemingly out of thin air. I more or less stood back and watched the trip unfold before me. Hiking times are for me, not necessarily for Rob or Adam, who exercised patience with my slowness.
June 10, 11: Adam and I had Korea Air flights to Seoul, Kuala Lumpur, met Rob, taxi to domestic airport.
June 12: After 6 hour wait, Air Asia flight to Kota Kinabalu, taxi to Kinabalu NP. Found out we could take advantage of cancellations at Laban Rata Hut. Scurrying a bit with luggage, etc., with guide (required) climbed to hut, had dinner there. Steep heavily used trail with built in steps. I'm exhausted. 4.5h, 4m, 4700f.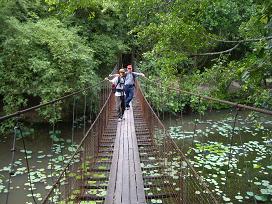 June 15: Bob, Adam on foot
bridge in Kota Kinabalu.
June 13: With our guide (a woman) climbed KINABALU (13455, P = 13455, World Prom #20, HP Borneo, HP Malaysia, my 28th country hp), lots of ladders, then open granite above. Later with guide back to trailhead. 8.5h, 7m, 2700f. Totals for KINABALU: 13h, 11m, 7400f. Got room at hostel near NP. No AC.
June 14: Taxi to Kota Kinabalu, took room in Kinabalu Hostel. No AC. Out to dinner at sea food restaurant with entertainment with Dr. Ruhaizad Daud, a contact Adam had made on the Internet.
June 15: Couldn't change our flights to Bali, so visited sites near Kota Kinabalu, some walk, some taxi. Kinabalu Hostel again.
June 16: More touristy stuff, taxis. Borneo Backpacker Hostel. AC this time.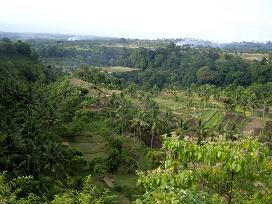 June 18: Lombok countryside
June 17: Taxi to airport, Air Asia flights to Kuala Lumpur, then to Bali, taxi to ferry terminal, night ferry to Lombok, fitful sleep in less than pleasant berth.
June 18: Taxi to Senaru, village base of Rinjani, take rooms in hostel, out to surprisingly good restaurant, very cheap, $13 for the 3 of us.
June 19: Ride to village of Sembalun and trailhead. Start up Rinjani with 2 porters (for our tents, bedding, food) and guide, smooth dirt path through tall grass. Very windy at camp. 8h, 7m, 5350f.
June 20: With guide we climbed to summit of RINJANI (12224, P = 12224, World Prom #39, HP Lombok). Cinder rubble last 1000 ft. Extreme high winds, driven moisture, no visibility near or at top. Guide pleaded with us to turn back, but we made it clear we were going on. Later on he said that this was the first time he had climbed under these conditions and would be the last time. Touched the highest rocks and got out of there. Moved to a lower camp. Partial views of the crater lake on way. 6.75h, 6m, 3450f.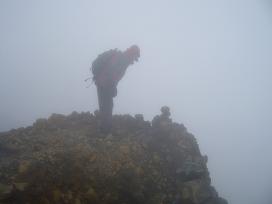 June 20: Bob at Rinjani summit,
very poor conditions.
June 21: Hiked out to a trailhead. 2.25h, 4m, 0f. Totals for RINJANI: 17h, 17m, 8800f. Ride from Sembalun to Senaru. Ride to Mataram, capital of Lombok, got room in Hotel Karthika II, no AC. Out to dinner.
June 22: Taxi to ferry terminal, ferry to Bali, van to Selat and found Puri Agung Inn & Trekking with restaurant, took room.
June 23: Ride to Pura Besakih and trailhead and climb of AGUNG (9944, P = 9944, World Prom #87, HP Bali). Guide asked us to pray at Hindu temple near start. Steeply up through forest, lots of tree roots, then open volcano areas above overlooking huge crater. 12.5h, 10m, 7000f. Ride back to Puri Agung Inn, dinner.
June 24: Van from Selat to ferry, short ferry ride to Ketapang, Java. We were found by Dodi, just the sort of man we were hoping to find, a man with connections and transportation. We would negotiate with him day by day for as much of Java as we could nurse him along. He required payment for a day and deposit for the next. He drove us, after a few stops, to Catimore Homestay (a hotel) on Kebun Balawan Coffee Plantation, we take room, dinner.
June 23: Gunung Agung summit
ridge runs along left skyline.
June 25: Dodi drives us to Sumber Wringin (long drive with lots of elevation loss and gain). Dodi found us a guide and 2 porters (apparently related). Not a word of English and they had to use OUR backpacks and we had to have water for the whole climb of RAUNG (10932, P = 10069, World Prom #83). Started up Raung and it soon became apparent that out "guide" did not know the way and he yelled into the jungle after which a man appeared who DID know the way and joined us. Our original "guide" turned out to be a dud and ended up carrying NOTHING and slowing us up. We paid him to go down (he at first refused) and hired the new man who demonstrated considerable competence, albeit no English here either. High up trail original guide and the porters quit and went down. We 3 and our new guide wrestled our considerable gear and water to a camp on trail in small break in forest. 8h, 7m, 4150f.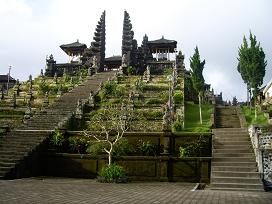 June 23: Temple at Pura Besakih
Hindu shrine, Bali.
June 26: With new guide we climb to puncak ("poonchak"), rim or view point, of spectacular crater of Raung only to find that we were roughly 500 ft lower and diametrically opposite the true high point of Raung. No sane way around 2km diameter, 1500 ft deep crater with vertical walls to hp. We could have been suspicious of this even from the crude map we had which shows our trail arriving at the rim on the N side and no connecting trail to the hp on the S side. We had been misled by Internet sources implying a route to true summit from the N and by the word "puncak" which clearly has meanings other than "summit" in the sense we are used to. Broke camp and got back to Sumber Wringin well after dark. 12h, 11m, 3850f. Totals for RAUNG: 20h, 18m, 8000f.
June 24: Dodi the taxi driver
with his most important tools.
Dodi drives us to Bondowoso, we take room (no AC, shower, towels), dinner. We are obviously not counting Raung among our vanquished. Would like to know if there is a route up to the hp from the S and who, if anyone, has been successful in conquering the true summit.
June 27: Dodi has van with driver and we drive to Bromo NP. We get room in guest house and have big dinner there. This is major tourist area with views of Bromo volcano (active) and caldera containing same.
June 28: Jeep drive across caldera and up to other side and along ridge to village of Ranu Pani. We trek with 2 porters on trail through tall wet vegetation to Ranu Kumbolo Crater Lake and then on to Kalimate Camp and set up our tents. 6h, 9m, 2400f. Rain all night.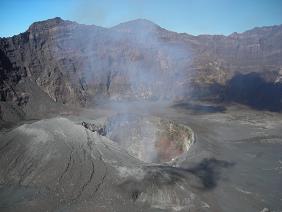 June 26: Gunung Raung crater
from north rim
June 29: After weather clears with #1 porter we climb to summit of SEMERU (12057, P = 12057, World Prom #44, HP Java). Rain consolidated fine black volcanic sand, very steep, sided by ridges of volcanic rock after short section thru forest. Hiked out to the lake and camped. 7h, 5m, 3700f. Saw several eruptions of Semeru on hike in and while at summit, mostly gases.
June 30: Hiked to Ranu Pani, saw black monkeys in the forest. 3.5h, 7m, 400f. Totals for SEMERU: 16.5h, 21m, 6500f. Dodi meets us and we drive to Blitar, large city, for room at Sri Rejeki Hotel and dinner out with young man who wanted to practice his English. Not our best dinner out by a long shot.
July 1: Dodi drives us to Sarangan, we take suite in Sarangan Hotel, by far best accommodations thus far. Beds for 3, tub, shower, towels, dining-living room. Overlooking lake, major tourist area for Indonesians.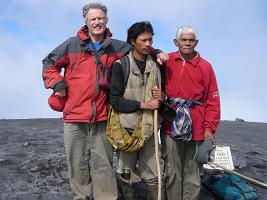 June 29: Bob with porter/guides
atop Gunung Semeru.
July 2: Dodi drives us up steep (paved) road to trailhead for LAWU (10712, P = 10230, World Prom #76). We have guide as insurance. This is an easy peak. Easy to follow trail, but I found it slippery on the way down, we 3 climb Lawu. Saw Hindu shrine near summit. 9h, 8m, 4700f. Dodi drives us from Trailhead 3+ hours to Yogyakarta and we find room in Komobokarno Hotel. Dinner at Japanese place.
July 3: Obviously Dodi has abandoned us and pocketed his advance for today. We get taxi to train station (Rob's brilliant idea) and we take express train to Purwokerto, then van to village of Bambangan in Slamet area, get room at Cemara Guest House, arrange for guide/porters. Adam's language skills really put to the test today. Dinner at Moslem family "restaurant". Dodi abandoned us at an appropriate time and place. The train ride was much faster and more comfortable than driving with Dodi would have been.
July 4: Ride from guest house to trailhead. We climb SLAMET (11247, P = 10774, World Prom #65). Mostly forest trail, last 1000 ft volcanic rocks, cinders. Back down 2000 ft to camp, set up our tents. 9.5h, 12.5m, 6300f.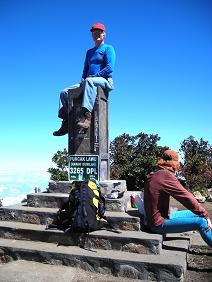 July 2: Bob atop Gunung Lawu's
summit pedestal.
July 5: Back to trailhead. 2.5h, 5.5m, 0f. Totals for SLAMET: 12h, 18m, 6300f. Ride to guest house for our luggage, then frantic van drive to Purwokerto train station, get executive class train (meals served, video, reclining seats) to Jakarta, van ride to Yusran Hotel, double bed, extra matress, AC, towels. Plane tickets bought at travel agency for tomorrow, Rob and I out for dinner.
July 6. Van to airport in Jakarta. Batavia Air flight to Padang, Sumatra. Van (about 3 hours) to homestay in Alahanpanjang, SE of Padang, dinner there, wonderful fried fish, for me most memorably good dinner on trip. D-licious.
July 7: Van (about 3 hours again) to Kersik Tua in tea plantation area at base of Kerinci. Take room in Penjinpan Home Stay, dinner. Arrange for porters/guide.
July 8: Adam has headache, we postpone climb. Rain most of day anyway. Rob goes birding, gets wet. I sense a cold coming on. Later in day Adam feels better, visits guide's home, has aborted trip to try to see elephants.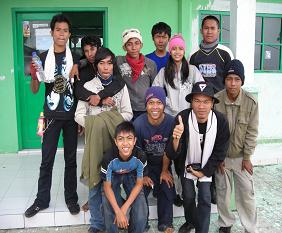 July 3: Teenagers in Bambangan, Java
before climbing Gunung Slamet.
July 9: Motorbike rides to trailhead for Kerinci for 6. Go up trail past gardens (potatoes, cabbage, etc.), then easy trail through forest, then very steep heavily eroded gully areas where you have to use sapplings and tree roots and branches for hand holds. Pitch tents at high camp only 1600 feet below summit of Kerinci, Rob reaches summit. 6.5h, 5m, 5650f. I have a cold, sinus and chest, phlegm, coughing.
July 10: With guide all 3 of us summit KERINCI (12483, P =12483, World Prom #33, HP Sumatra, my 24th World 50 Finest and 118th ultra). Back to break camp and hike down. 7.5h, 7m, 1650f. Totals for KERINCI: 14h, 12m, 7300f. Back to homestay via motorbike. Cold really bothering me. Rigors of the trip have caught up with me. Semeru, Slamet and Kerinci are comparable with Kerinci having the hardest forest gullies and the easiest volcanic rock summit climb. Slamet had the hardest summit, especially on the way down, with "roller bearing" cinders on steep solid volcanic rock. I note that the 8 climbs to this point have AVERAGED 7000 ft elevation gain.
July 11: Van to Bukittinggi (about 7.5 hours). My cold particularly bad. Driver gives me throat lozenges which help. I'm using Afrin. Get 2 rooms in Kartini Hotel. Dinner in Bedudal Cafe.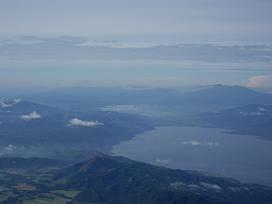 July 12: View southeast from
Gunung Marapi, Sumatra.
Gunung Kerinci is on horizon 30%
of picture's width from left edge.
July 12: Adam is 47 today. He and Rob climb to rim of MARAPI (9485, P = 6942), but find themselves well below the summit which they can't easily reach. I would have opted out of Marapi even without the cold. For me the trip was over with Kerinci.
July 13: Adam and I have van ride to Padang airport. We leave Rob off near trailhead for SINGGALANG (9439, P = 5666). Haven't heard how he made out. Air Asia flight to KL, taxi to Imperial Hotel, room 6th floor with views of Petronas Towers. This is our first mid-range ($40 for room for 2) accommodation, all others being budget range or tent. When necessary we had been taking turns sleeping on floor with extra mattress or our camping mattresses. Out to dinner at Arabic place, seemed to be Iranians, some with women in burkas, watching Iraq beat Australia 3-1 in a soccer match on TV.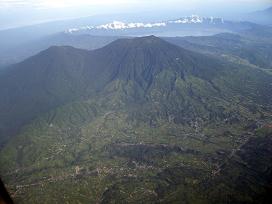 July 14: aerial view, Gunung Singgalang

July 14: Taxi to Kuala Lumpur airport (International) and Air China flights to Taiwan and LAX. This trip cost me roughly $2700, LA to LA. The cost was the same for Adam and Rob, too (England to England). If you add my $280 long term parking fee at LAX and gas money to LA from Flagstaff and back the cost is roughly $3300. I lost 10 lbs on this trip, much more than usual. 'Twas a gruelling trip for me.

NOTES: Malaysians/Indonesians drive on left. Saw almost no indication of abject poverty in either country. People seem well fed, well dressed, happy in general, although many are poor. One sad thing is that a very high percentage of young men in Indonesia smoke, a LOT. Men dress western style for the most part. Levis with long blouses and head scarves common among women, the younger of whom don't seem reticent about "strutting their stuff". Only place I saw burkas was in Kuala Lumpur, and not many there. Nonetheless, call to prayer permeates the air everywhere, city or rural.

Kite flying must be a common pastime in Indonesia, saw lots of it in both Java and Sumatra. Roads quite good for the most part, paved even in rural areas. English commonly spoken in Malaysia, significantly less in Indonesia. Cities filled with many new cars. Motorbikes swarm the highways of Indonesia in huge numbers, city and rural. Bicycles common. Bicycle rickshaws and horse drawn carts common modes of travel in built up areas.

- Bob Packard

11Bob's notation for peak and climb statistics -

(12057, P = 10484) signifies an elevation of 12,057 feet and a prominence of 10,484 feet.
9.5h, 12.5m, 6300f signifies a 9.5 hour hike duration, over 12.5 miles, with 6,300 feet of total elevation gain. HP signifies "highpoint", NP "National Park", AC "air conditioning". 12The average elevation gain for the eight primary peaks of our itinerary is exactly 7,000 vertical feet - a testament to the massive nature of these peaks. Adding 5,000 feet for Gunung Marapi yields a total gain of 61,000 feet. To this figure Robert may add whatever gain is incurred at Gunung Singgalang after Bob and I departed. Using the hiking statistics of Bob's summary, one obtains the following totals for the eight peaks of our itinerary - 114 hours hiking, over 115 miles of trail and cross-country travel, with 56,000 feet gained. An additional 8 hours, 9 miles, and 5,000 feet are added for Gunung Marapi.
---