1A common greeting by Indonesians on passing through their village.
2Mouse-click on ANY photograph for enlargement.
3All photographs are courtesy of Bob Packard and Robert Woodall.
---
Crux Moments

Lombok Island, June 20...

"We must go down", shouts the Indonesian guide.

Bob refuses, continuing upslope in the 50 mile gale.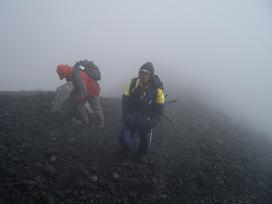 Rinjani summit ridge,
near white-out conditions.

Clasping my hands as in prayer,

"I beg you that we continue" - then rub my fingers in the manner known worldwide to mean "You'll get more money".

We continue to the summit of Gunung Rinjani, highest mountain of Lombok in the Indonesian island archipelago.

The conditions are horrific until leaving the summit ridge some 1,500 feet below: who would imagine that fingers could numb a mere eight degrees from the Equator?

Back at high camp the guide notes he never took clients under such hellacious conditions...and never would do so again.

Sumatra, July 12...

"Ini tidak puncak!" - "This is not the summit!", I shout to the lanky guide.

He is surprised that Robert and I are unsatisfied. After all, this subpeak, overlooking a grand view of the summit craters and much of Sumatra, is ample reward for every other hiker in these parts.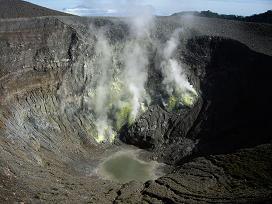 In the abyss, yellow/green rock
stained by toxic, sulfurous fumes.

Peering north Robert and I and spot a heavily forested ridge that appears higher on the opposite side of the bleak, barren, cratered landscape.

"Kami pergi disana" - "We are going there", I say, pointing north. The guide thinks we are crazy, and, as nearly all Indonesian men do, sits down for a smoke.

Robert and I return an hour later, thwarted by an entangled mass of brush that's impassible without a machete. We have lunch while friendly Indonesian students make their way to the false "summit", and, as always, engage in a round of conversation and photography.

Apart from a zealous desire to reach the mathematically highest point of ground, what else do these two tales have in common?

*** PROMINENCE ***

Prominence - a way of measuring mountains that accounts for their vertical relief rather than sheer elevation. It is an objective measure of "impressiveness".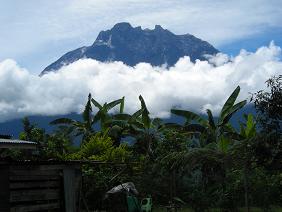 Gunung Kinabalu - Borneo highpoint
and Earth's 20th most prominent mountain.

A list results - "Earth's Fifty Finest" - the planet's 50 most prominent peaks. Bob, Robert, and I visit southeast Asia to climb four of them.

Falling 300 feet short (as in story one), or reaching a subpeak (story two), are insufficient. Such efforts count for nothing to a prominence-oriented peakbagger. This overwhelming, single-minded pursuit of settingi tingginya - "the very highest", determines the entire itinerary.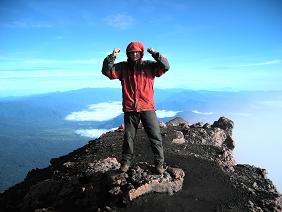 Bob Packard atop Gunung Kerinci,
Sumatra highpoint and the last
of our Earth's Fifty Finest summits.

We spend five weeks in Malaysia and Indonesia pursuing the most prominent peaks they offer.4 Lying along the Pacific Rim of Fire, these volcanoes are very big indeed. In so doing we climb the highest peaks on several large islands - peaks whose prominence is ensured by being island highpoints.

All-told our journeys prove a cultural adventure for its own sake - often traveling where no (western) tourist normally sets foot. This suggests learning Indonesian is essential knowledge for making critical arrangements with guides, porters, and local transportation.

Meteorological, social, and gastronomic factors color the palette.

I urge you to read on, sharing an adventure that is, to my knowledge, unique for a western traveler.
4Puncak Jaya, the New Guinea highpoint, is not visited owing largely to expense.
Expeditions to this peak typically exceed $10,000 per climber.
---
A Note on Organization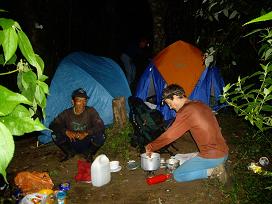 Adam prepares supper in
the Gunung Raung jungle as
the local guide watches attentively.
ach volcano has a unique story, described separately and in chronological sequence. In contrast, for instance, my 2006 account of climbing Aconcagua is arranged by topic, as, in that case, only a single (yet major) effort is involved. I could do similarly here, but, again, that would detract from the individuality of each peak climb.
There are specific topics best described independently of the timeline because they arise on several occasions. Thus Appendix A details transportation, Appendix B health issues, and, most importantly, Appendix C describes food and drink.
Appendix D is a trip summary as posted by Robert as an E-mail message from an Internet café on my birthday in Bukittinggi, Sumatra. Robert communicated our progress in this manner as the journey proceeded.
Appendix E is a nuts-and-bolts trip review from Bob as composed within days of our return to America.
Finally Appendix F provides GPS-derived latitudes and longitudes for key waypoints on several ascents - valuable information to future climbers.
---
&nbsp Table of Contents
&nbsp External Hyperlinks
&nbsp * * * * * * * * * *
&nbsp * * * * * * * * * * * *
5This on-line mail group discusses and organizes climbs of Javanese volcanoes.
6By Rob Dickinson, this review of large Java volcanoes is valuable reading.
7This mountain-oriented website contains several descriptions of southeast Asian peaks.
However the articles on Gunung Raung and Gunung Marapi (Sumatra) are misleading in that the routes described
do not reach their true summits.