Overall Impressions and Conclusion

---
Overall Impressions

y travels are dominated by mountains. I have climbed nearly 700, and of them several volcanoes from Mount Rainier to Kilimanjaro. Bob has climbed thousands of mountains. For us, scaling several more volcanoes is not a new type of experience.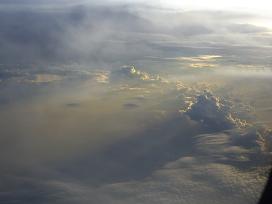 Daytime thunderstorm buildup
on Kuala Lumpur to Bali flight.

This journey's extra-montane merit derives only from the setting in southeast Asia. There, the natural environment - be it the true rainforest on the slopes of Gunung Kerinci or the stark upper reaches of Gunung Semeru, provides the unique dimension.

The local people and their lifestyles added color to our trip in ways writing cannot adequately portray. Our photographs come close; yet, honestly, "You just had to be there."

I'll likely never again spend five solid weeks bagging foreign peaks - for there is virtually nowhere else on Earth where it is possible to scale so many prominent peaks on a single trip. More difficult mountains abound, and are likely in my future - but they generally come as singletons rather than as groups of eight.

A summer of climbing peaks in the western U.S.A. delayed this report for over two months. The memories have faded somewhat; yet are rekindled on viewing the hundreds of photographs Bob and Robert secured.

In thirty years this story will fill that role in equal measure.

Conclusion

n this journey we dared dream big - and, with considerable effort, generally succeeded by climbing four of Earth's Fifty Finest and seven of the World Top 100 by prominence.

Pursue your passion, to the ends of Earth if desired. And do not fret if effort meets with failure: the only people to mourn over, indeed the vast majority, are those poor souls who merely sit at home:

THEY EXIST YET DO NOT LIVE.
---