Blossom's Story
Video Greeting (38 megabytes)
This story results from collating dozens of Email messages Blossom shared
with her son Adam in early 2013. Hence "your" refers to him.
Adam inserted paragraph breaks between messages and different subtopics;
and made minor grammatical changes to correct for the difficulties of typing
certain characters on Blossom's iPad device. Her actual words remain intact.

The initial stream of messages were sent without realizing they would be part
of a greater whole. Hence there is a certain "randomness" to the topics, one which
Blossom decided shall remain as a "stream of consciousness" example.

The initial use of a foreign word, generally Hebrew or Yiddish, has a link to
its definition. Thereafter the word is italicized.

Click for a larger picture.
---
Immediate Family
My grandfather Rabbi Abraham Lehrman was Grandpa's father. He died the year they announced in August the war is over. I was nine and ten those summers when we went to the Strollowitz bungalows in the Catskill mountains.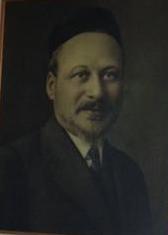 Rabbi Abraham Lehrman
(click for detail).
Minnie Dinewitz Lehrman, the wife of Rabbi Abraham Lehrman and obviously your great grandmother. Grandma's mother was Fayga Cherkas, in English she was "Fannie". Obviously your other great grandmother. Your cousin Fayanne is named for her. I am named for Minnie's mother the Buba "Bluma" which is my Jewish name. You must have heard Grandma call me that.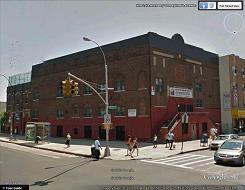 Pennsylvania Ave. Talmud Torah
where Rabbi Abraham Lehrman
was rabbi from roughly 1915-1945
(click for detail).

Located at Pennsylvania and
New Lots Ave., southwest corner.
Grandma's father was Joseph Cherkas but I never knew him since he deserted the entire family including his mother and his wife the Buba Fayga Cherkas. It shaped and almost destroyed Grandma's life and her brother's life, Dr. Benjamin Cherkas.
Rabbi Abraham Lehrman was the second of several sons. Therefore he didn't inherit the pulpit that was his father's and his grandfather's so he emigrated to America. Some of his brothers went to Israel, and so you have Lehrman cousins in Israel.
He was rabbi of the Pennsylvania Avenue shul in Brooklyn, New York. He was very famous from giving his speeches called "drosh" in 3 languages. First he spoke in Yiddish. Then in Hebrew. Then in English. People lined up for blocks around to hear this. It was obviously unique. He died at 58 years old from kidney failure.
Fayga Targansky Cherkas was never a housewife. Her parents (who are my great grandparents) owned a department store in Reznivka, Ukraine near Kiev. She travelled as far as China to purchase supplies. I vaguely remember she bought rope.
Her husband Joseph Cherkas went first to America and sent for her a few years later. It took her a year to cross Europe into Belgium where she got a boat - and when she arrived (to the USA) he was not there.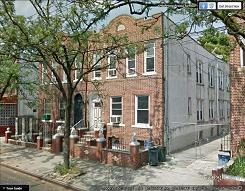 This might be where Rabbi and
Mrs. Abraham Lehrman lived in
Brooklyn on Pennylvania Avenue
(click for detail).

WGS84 (40.66072° N, 73.89207° W)
His brothers Louis, Boruch and Meyer helped Grandma her whole life. Louis' children and I are on Facebook together - my cousin Florence from Malden, Massachusetts. Her own brothers and sisters also helped her, including Aunt Essie and Aunt Sylvia; plus brothers Alex, Ben, Joe and Harry Targansky.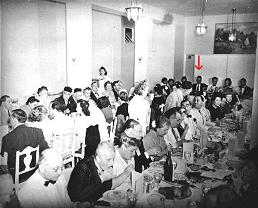 Rabbi Abraham Lehrman (red arrow)
at the 1943 installation of his son
Irving as rabbi to a Miami congregation.

Abraham is under the red arrow;
with Irving to his left followed by
Irving's wife Bell (click for detail).
She opened a dry goods store and made a good living. She sent Roses' brother Ben for whom Aaron is named to medical school and helped Grandpa when they were first married.
Minnie Dinowitz Lehrman was the daughter of a rich timber baron, and as was the custom when she married they moved into her father's house on a large acreage in the woods. That was why Grandpa was given a baby bear when he was little.
Grandpa was the oldest, then Rabbi Irving Lehrman of Miami Beach; then Rose who married Rabbi Solomon Moseson of Pittsburgh. Then Claire who married Dr. Herbert Pearl during World War II. Lastly was Israel who enlisted in the navy, became a submariner and was the only survivor of the sub's destruction. He subsequently became schizophrenic and spent the balance of his life in an institution.
Cousins on Mother's Side
Here are some of the cousins on the East Coast. Essie had two sons. One is Dr. Herman Barest who had two children, including Warren Barest and Jessica. (Dr. Herman Barest was Chief of Opthalmology at Montefiore Hospital in New York City.)
William is Essie's second child ("Velvel" in Yiddish). He married Sally and had two children - including Bonnie, now about 55 years old.
Aunt Sylvia had two girls, Marilyn and Diana.
Marilyn married Calvin Rittner, had 3 children. Diana married Bernard Grafman and had 2 children - one was named Pamela.
Also Fayga's brother Ben had a daughter my age named Marilyn Targansky. She is my age and may be living on the West Coast.
The son of Ben Targansky was Raphael who was murdered in a truck bomb by the Teamsters Union for operating a nonunion trucking business. However Raphael had 2 Targansky sons and 2 daughters who are the only ones left with that name in New Jersey.
Essie's first son Herman is known in Hebrew as "Chaim".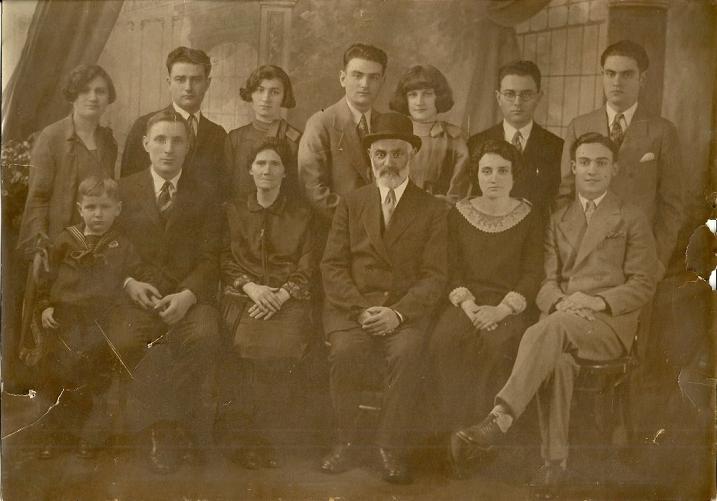 The Targansky family circa 1926-27.

Back row from viewer's left - Essie, Alex, Sylvia, Joe, Rose, Harry and lastly Ben Targansky.
Recall Rose is Blossom's mother, here as a 16 or 17 year old girl.

Front row (from viewer's left) - Herman Barest (Essie's first son), Barney Barest (her husband),
the Buba Miriam Esther, the Zayda Samuel (with tall hat),
Fayga Cherkas and lastly Ben Cherkas her son and Rose's brother.

Miriam Esther and Samuel are Blossom's great grandparents and Adam's great great grandparents.
(Photograph courtesy of Gail Targansky, click to enlarge).
Cousins on Father's Side
Now for cousins on the Lehrman side.
Rabbi Irving had Dr. David Lehrman and Rozzie who never married. They both live in Miami.
Rose Moseson (third child of Rabbi Abraham Lehrman) had Shirley who married a Whitman in Pittsburgh and had children who became very religious.
Claire Pearl, Grandpa's younger sister (4th child), had 3 children of her own. The first child died at age 30 of lymphoma, the same thing Grandpa died from. The other two children became doctors living in Atlanta.
Israel whose nickname was "Soocoo" was the youngest of Abraham's five children. He was the schizophrenic, after being the sole survivor of a WWII submarine disaster. So now you also have some idea of the family diseases.
Zayda's Family (Norman's father)
Zayda had 3 sisters that I know of. The oldest was Anna ("Osnay") who married Harry Korman and had 4 daughters.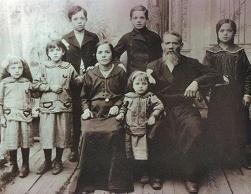 Zayda's parents and siblings.
Back row (viewer left to right)
are Charles and Leo Helman (Zayda).
Front row: Zayda's sisters Bessie,
Anna (Osnay), Sara-Dina (mother),
Dorothy, Isaac (father) and Rachel.
(Click for detail)
The oldest daughter was older than Eileen and died of Alzheimer's disease - she was Helen Braverman whose daughter Sarah went to Sunday school with you.
Next of Asnat's girls was Eunice Ring, then Geraldine who died at 59 from asthma. She went walking her dog and had an attack in extreme cold. Lastly was Suzie who died at age 35 from parathyroid cancer. Very unusual.
Then Zayda's sister Bessie Dorchen had 2 sons both still well - they are Ira and Sammy Dorchen.
The last sister was Dorothy Schechter whose son Joel has a Ph.D. and is a Dean at U.S.C.. Dorothy's daughter named Arlene introduced me to daddy. She married Arnold Solomon, a teacher.
Interestingly Bessie had exactly Daddy's form of Alzheimer's and Dorothy was schizophrenic.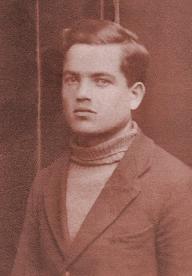 Leo Helman ("Zayda") as a
young man (click for detail).
Zayda had 4 brothers. The oldest was Elie who lived in Canada and called himself "Gelman" - not "Helman". It all depended on the admitting immigration officer's translation. He was a half brother since your great grandmother died and your great grandfather got remarried to his niece - totally legal but could be construed as inbreeding. Zayda was the first born of this second marriage.
After Zayda came Charles who lived on Roslyn Road half a block away and married Edith who Grandma called "the Polish one". They had 5 children ....
Patsy died as a child. Gail married Harold Gendelman and had Julie. Plus two other children (of Charles and Edith) - I can't remember their names. The final, fifth child was Phyllis who had brain surgery at age 16 and has always walked shakily. She married Carl Pavsner and had 3 kids - and then a set of twins (Jerome and Joel).
Dr. Jerome lives in Pacific Palisades married to Sandra Winkleman with 3 children. Sadly Joel became schizophrenic and committed suicide at age 21. It was horrible.
Zayda's final two other brothers. Harry lived most of his life in Saint Louis with his wife and two daughters, then moved into The Royal Bahamian in North Miami Beach along with Lei and Charlie. This building was across the street from our building The Wilshire Apartments.
The youngest brother was Peter who passed away only last year. He was married to Shirley and had adopted Lee and Mindy - then had his own children Steve, Laurie and Amy. The last two you know from Hillel Day School.
Benjamin
Benjamin, Grandma's brother, had as Hebrew name "Ben Zion". He was two years younger than she and came to America at the age of four. Grandma would have been six. He became a doctor and served four years of WWII in France.
Then Ben took a residency in anesthesia. Originally he practiced in Cambridge, Mass. - and the Buba Cherkas made a home for him. Later when he became a specialist he moved to Worcester, Mass. and the family still lives there now.
He married late at age 41 to Selma and had three children - these are my first cousins. Linda. Then Elise then Phillip. He died also very young at 50 from pancreatic cancer and left the oldest child at age six. A great tragedy.
Bubby's Progeny (Norman's mother)
Finally we come to your first cousins. Bubby (Norman's mother) had 5 children. The first was Isaac and he died at the age of two from a throat virus. They didn't have even sulfa drugs in 1930. Bubby cried for a lifetime over this it was a horrible shame. She said he looked like Eileen and Norman. Which is just like you.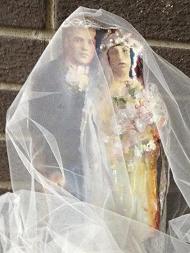 Norman's mother ("Bubby")
at her wedding (click for detail).
Then came Eileen born in 1931. She had 4 children with her first husband Joseph Steingold who was a gambler. She divorced him and married Elie Aboulafia in 1964.
The children are of course Robert who married Debbie and had Jason and Sean. They also adopted Debbie's son Woody who is now divorced. Jason has not married but Sean did and has 1 child.
Next is David Steingold, an attorney who divorced and has two married daughters Rachel and Lindsey. He also has a son Eric with medical problems.
Next is Michael who is married to Janice and has 1 child Megan.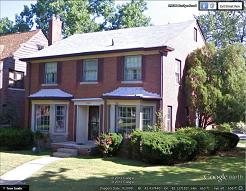 Bubby's home on Roslyn Road.
Construction was supervised by
her husband Leo (click for detail).
Lastly is Mark who is a dentist with 4 children. He married Susie. Dana is their oldest. Their other children include a girl Melissa and the youngest is Brandon - a boy. Melissa has severe behavioral problems. (Note how one child is not mentioned.)
Next comes Gerald Bernard Who married Dollie and had 3 children. Ruth (the first child) never married.
Debbie (the second child) married a fellow named "Skip" Rose; they both became attorneys though Debbie never worked. She had 4 children.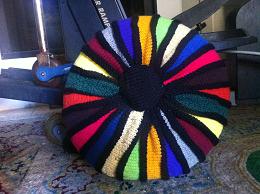 Bubby knitted this multicolor
pillow for Adam (click to enlarge).
Debbie's first child is Danny who became a rabbi in Baltimore and has several kids. Debbie's second child is Yonie who was retrieved in your truck for backpacking. Yonie has become nothing in particular although he sings well and would like to become an opera star. He recently married Miriam.
Debbie's 3rd and 4th children are two unmarried daughters now in their mid-twenties named Shoshana and Elisheva.
The last of Gerald and Dollie's children is David with 8 children - excessively religious to the point that he doesn't like his father or mother. They were not religious enough. He has Ph.D. in computer sciences and works for the government.
Now I will get into your uncle Paul's family.
Paul, a gerontologist is the youngest of Bubie's children and had two wives.
His first wife Elaine died at age 39 from Creutzfeldt–Jakob disease. She ate brains in Greece as a teenager. Elaine had two kids - Jennifer who is now about 43 years old and has 3 children. The next is Jonathan who wrote to you several years ago in connection with hiking voyages.
After Elaine died Paul married Ruth with whom he had Daniel who is autistic and has taken immense amounts of effort to make into a mensch. He is now almost 30 years old and as far as I know still lives with his parents in Chicago on Lakeshore Drive.
Miriam
Miriam Esther Lehrman. My only sibling was 4 years older than me. She was very purely with blond hair and Grandpa's blue eyes. She was asked when young to be a model.
Miriam never finished college but she played the piano very nicely and always entertained people. She married Rabbi Max Lipschitz when she was 19 and he was 27 in 1952.
They had three children. Sander Ellis born in 1953, Rochelle born two years later and Fayanne who was named for the Buba Cherkas was born in 1960.
Sander became a pediatrician after Grandpa helped him get into medical school. He has two daughters. One is named Brooke - and "Sandy" lives in Detroit. Cannot recall the second daughter's name.
Sandy changed his name to "Lipman" - a combination of "Lehrman" and "Lipschitz".)
Miriam's second child, "Shelley" (Rochelle) married a religious guy named Schochet, lives in New York and has several ultra orthodox kids. I have totally lost track of her.
Fayanne was married twice and unfortunately had more than one child born with cerebral palsy.
Miriam spent large portions of her life in mental institutions because she was schizophrenic which came on her at age 27. It ruined Grandpa and Grandma's lives. She died in 2001 just days before 9/11 from a combination of heart disease and lung cancer after a lifetime of smoking.
---
Early Places We Lived
I thought you would be interested in all the places I lived because Grandpa was a rabbi and we moved when a shul offered him more money.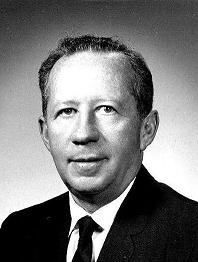 Grandpa
(click for detail).
I was born in Mount Vernon, New York of Westchester County which was a very expensive and fancy place. Grandpa was a Hebrew teacher and here got Smicha which was ordination.
When I was about two we moved to Cedarhurst, New York and I started school - then came WWII. This is where the teacher forced Grandma into changing my name to "Blossom" from "Bluma" because non-English names were not accepted.
When I was 6 we went to Middletown, Connecticut. We were there for one year, living in a Revolutionary War era house with a sloping floor and an ice box instead of a refrigerator. Grandpa learned to raise vegetables and we had a victory garden.
We left about 1943 and moved to Buffalo where Grandpa was rabbi of Congregation Beth David. We lived at 152 Hamlin Road. This was the first house they actually bought, it cost 7,000 dollars.
Ben Cherkas was drafted into the army and gave Grandpa his car - so here is when Grandpa learned to drive at age 35.
We left For Detroit in 1948.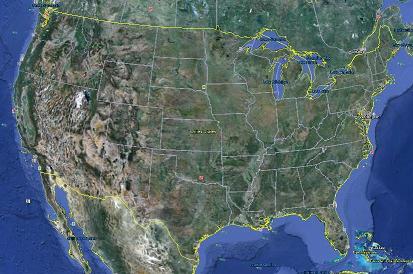 Dynamic map of everywhere I have lived
(Click image to zoom-in.)
To Michigan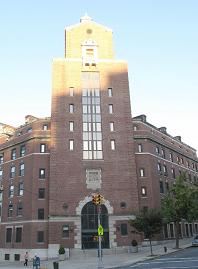 Jewish Theological Seminary
(click for detail).
In 1948 four "baalha batim" which means "operators" of Congregation B'nai Moshe arrived at our home in Buffalo to interview Grandpa. Grandma served them an enormous and sumptuous meal which helped convince them to hire Grandpa for $8,000. Imagine for that amount our entire family moved west. Detroit was considered cowboy country to New Yorkers.
Two years later Grandpa got a raise to $10,000. Thinking they were rich we rented the top half of a duplex at 2900 Webb Avenue - walking distance to the old B'nai Moshe on Dexter Blvd. Many years later it was sold to the Ebeneezer Baptist Church and Grandpa spent years collecting money to build a new shul in Oak Park.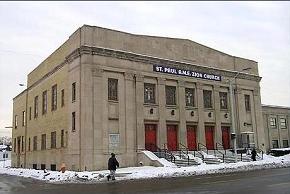 The Dexter Blvd. B'nai Moshe
now houses a church (click for detail).
After two years they bought a home at 3815 Cortland Avenue where I met daddy in 1956.
Your great grandfather Rabbi Abraham Lehrman was orthodox as were all your ancestors going back 13 generations. Yet Grandma realized that if Grandpa was to become a well-known rabbi in a community he should be conservative. Hence in addition to "smichas" from orthodox rabbis who had already ordained him, he would need to attend the Jewish Theological Seminary of America in New York. This he did, graduating in 1942.
When Grandpa went to Detroit B'nai Moshe was orthodox. So he moved the ladies to sit with the men and changed many prayers. There was much hardship accomplishing this. To set a good example I went to Hebrew school 4 days a week, then Sunday school on Sunday and shul services both Friday night and shabbos. You can imagine how onerous this eventually became I was the only kid doing this.
However Grandpa prevailed and became very successful.
---
"If the statistics are right, the Jews constitute but 1 percent of the human race. It suggests a nebulous dim puff of star dust lost in the malaise of the Milky Way. Properly the Jew ought hardly be heard of, but he is heard of, has always been heard of.
He is as prominent on the planet as any other people, and his commercial importance is extravagantly out of proportion to the smallness of his bulk. His contributions to the world's list of great names in literature, science, art, music, finance, medicine, and obtuse learning are also way out of proportion to the weakness of his numbers.
He has made a marvelous fight in this world in all the ages, and he has done it with his hands tied behind him. He could be vain of himself and be excused for it. The Egyptians, the Babylonians, and the Persians rose, filled the planet with sound and splendor, and faded to dream stuff and passed away. The Greeks and the Romans followed and made a vast noise and they are gone. Other peoples have sprung up and held their torch high for a time. But it burned out, and they sit in twilight now, or have vanished.
The Jew saw them all, and is now what he always was, exhibiting no decadence, no infirmities of age, no weakening of his parts, no slowing of his energies, no dulling of his alert and aggressive mind. All things are mortal but the Jew. All other forces pass, but he remains."
&nbsp &nbsp &nbsp &nbsp &nbsp &nbsp Mark Twain, Harper's, September 1899
---
Meeting Norman
Norman Helman called my home on Cortland Street early in the week of October 7, 1956. He said he had been given my name by his cousin Arlene Schechter because he needed a date for a fraternity party. He did not know that her mother Aunt Dorothy had sat next to Grandma at a dinner and they made the original arrangements.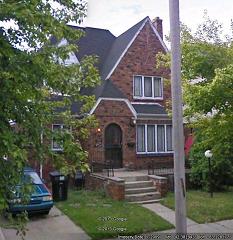 I lived on Cortland Avenue from
1950 to 1957 (click for detail).
He arrived Saturday night wearing an Ivy League brown suit with a brand new black and white coat over his arm. Grandma ran up the stairs and said, "Blossom you are going to like this one he is so cute". And he was and still is.
He was very smart and could identify all pieces of classical music from the first three notes. He davened every morning, could understand Yiddish and he was driving his father's fancy new Oldsmobile.
He also played tennis, which is why he is so well now because he took care of exercise. The most important thing was his good nature he was called "Tiger Norm" as a joke since he was so sweet. I knew at once we would get married.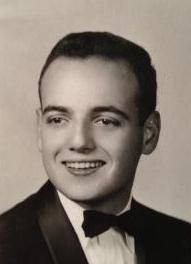 Norman upon graduating
from medical school.
When Ben Cherkas returned from the army in 1945 Grandpa had to return his car. Therefore Grandpa bought a brand new Studebaker automobile. It was very famous for looking the same from front and back.
After he moved to Detroit and got the raise from the shul in the sum of two thousand dollars he bought a Buick which I learned to drive on.
Grandpa now earned 10,000 a year. Imagine. Rabbis now earn $200,000 a year. From then on they always had a Buick which perhaps you remember.
When I was 16 in 1952 I applied to University of Michigan. I took the entrance exam and they let me in. I asked Grandpa if I could go and he said yes. They didn't know Miriam would have a very expensive wedding later that year.
I had a single room in a dormitory called Stockwell. There were many other Jewish kids there from all over the country. After my second year Grandma told me I had to move home and finish at Wayne State University because they didn't have enough money. I cried and cried but I switched schools.
She let me drive her newly purchased Plymouth automobile, a cheap small powder car. She had just learned to drive at age 42.
Early Memories
My earliest memory was lying in my crib probably about 8 months old. Grandma opened the door at night and let in many people who surrounded my crib and were talking furiously in a complete babble I could not pick out even one word. Which means it happened before I could understand any words.
Then I recall the 1939 New York Worlds Fair We went on the Long Island Rail Road which had woven bamboo seats. The main memory is of the Borden Milk exhibit which had Bossie the automated cow giving chocolate milk - it was fascinating.
Also I vividly remember the 1938 Long Island hurricane standing by the living room window watching an enormous tree getting battered and Grandma said
"Bluma get away from the window. You could get hurt."
Childhood
I was in kindergarten in Cedarhurst Long Island. It was a very wealthy community as many of the richest Jews in New York moved away from the city to live on an island.
I had a friend who came to visit me and was delivered by a chauffeur and limousine. When he arrived I wanted to impress him with something unique so I took him into the bedroom of the Buba Cherkas and showed him her teeth sitting in a drinking glass. She had false teeth in those days repairing teeth was not as efficient as now.
World war started and I was six years old. People everywhere were asked to bring rubber or steel products to the police station for melting to use in the war effort.
Grandma took my beautiful tricycle and donated it. I was very sad I didn't get another bike until Buffalo when someone gave me a used bike. Shortly I drove it to the main street and parked it and a car driver ran it over. Grandma never got me another one. I never had a nice bike my whole life.
In Middletown we lived in a house 150 years old, it dated from the Revolutionary War and had an outdoors cellar that was entered from a double-doored trap. I never went down there.
Frequently battalions of soldiers in tanks would pass by the main street in front of the house and I would sit and they waved hello to me.
The living room floor was severely warped and it sloped badly. There was no refrigerator but instead an ice box that an ice man came every day and filled.
It was here that the school I went to determined I was too smart for my age mates and they skipped me one grade. So from then on I was always smaller and less physically competent than my school friends. I was always the last one chosen for sports teams.
Here I made my first girlfriend who lived across the street and was named Sandra Shwartz. She gave me a book as a gift that I still have.
When age 7 I spontaneously began memorizing books, no one asked me to do this. I would read a page once and it would be retained. When people discovered what I could do I was stood on a table to recite. I remember memorizing "Ktan Tan", the tale of a minuscule boy and reciting it many times.1 This was an inherited ability as my father memorized multiple tracts of the Talmud for his Rabbinic ordination, and Dale had a reputation in medical school as "first pass Helman" for his same ability.
1 "Ktan" is Hebrew for "little".
Buffalo, New York
We moved to Buffalo after only one year in 1943. Grandpa became the rabbi of Congregation Beth David on Humboldt Parkway, a beautiful boulevard lined with large homes.
Half a mile down the street was the Museum of Natural History where I often walked on a Shabbos. Next to the shul was the office of our family doctor Dr. Bill Stone. Several years later Grandpa had appendicitis and was operated on by Bill Stone.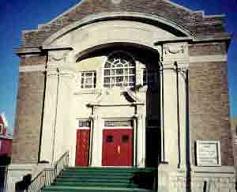 Original Congregation
Beth David synagogue
(click for detail).
His wife Malka was the sister of a famous Rabbi Halperin from Saint Louis. Grandpa was officially installed as rabbi in a ceremony and his parents came from Brooklyn.
The old Zayda (Grandpa's father) was not happy that Grandpa was no longer orthodox. He felt it was the end of the line. I never got to know him very well because Grandma didn't get along at all with Grandpa's mother and fought with her for both their lifetimes.
However I recall that we took the old Zayda to see Niagara Falls. He died only two years later from kidney failure, only 58 years old. He said that is enough of life. He was disgusted by the schizophrenia of his youngest child Israel.
Back in Middletown Grandpa made friends with the schochet or kosher slaughterer; and since liver was considered a throwaway organ Grandpa would get it free every day and we ate liver 80 percent of the time. After that I only ate chopped chicken livers, never cows liver.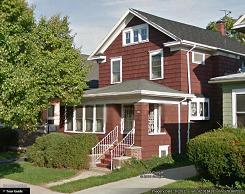 Buffalo, NY home
(click for detail).
In Buffalo we lived across the street from many shul members some of whom had girls my age. Rose and Charlie Farber were very chubby. He was a pharmacist and she was a teacher although she didn't work because housewives didn't work.
Their daughter Marcia was my friend and I often slept there. Rose would make Egyptian eggs for breakfast, and is when I learned to enjoy it.
Next door was Gussie and Joe Weinger who owned a dress shop. She actually went to work and they had a housekeeper who never allowed any children in the house. My friend was Geraldine and I never saw the inside of her home.
In the garage in Buffalo which I think was originally a stable since it was very large, I discovered an old fashioned wind-up Victrola with the records of Peter and the Wolf - a narrative musical by Serge Prokofiev, the story of a small boy and a duck that gets eaten. Each character has his own special music and I listened to this over and over. This is still my all time favorite music.
Since Geraldine's father was in the dress business she had very expensive and beautiful clothing. I told Grandma I wanted pretty dresses like that, and Grandma answered if Grandpa could make dresses out of sermons I would have the prettiest there were.
However Grandma bought me 3 outfits that I have never forgotten. The first was a teddy bear coat in brown made of heavy wool with round leather buttons. Next a grey wool suit with a flared skirt and bored silver buttons; and lastly she sewed herself a plaid taffeta dress with a keyhole neckline.
They were all given away when I outgrew them and I have searched for duplicates for years. Hence my collections of clothing.
The Wizard of Oz movie came out in 1939 everybody went to see this but I became very very sick and lay in my crib.
First Detroit home was a two
story duplex on Webb Avenue
(click for detail).
Grandpa bought a magnificent doll house and put it in the crib with me to cheer me up and activate me. I had wanted this toy but it was so expensive they didn't have the money. It was a great sacrifice to buy this and I remember perfectly that I was so sick I couldn't play with it. I didn't see that movie until I was an adult.
My most favorite things to do as a child were going to summer camp, eating Grandma's homemade chocolate pudding, reading the dictionary while sitting on the staircase. Listening to "Let's Pretend" on the radio on Shabbos morning, which I could do only when I was home sick and not going to shul.
Grandma and Grandpa loved listening to the Metropolitan Opera on Shabbos but were not supposed to do that so they did anyway very quietly and we were never supposed to tell anyone.
Every summer in Buffalo Grandpa took off at least one month vacation and drove us across New York state on the turnpike past Syracuse, Utica, Schenectady, Albany, down the Hudson River to New York City. Grandma would put moth balls in all the rugs, roll them up, turn off the gas in the stove and we would go. All rugs were made of wool since there were no synthetics and wall to wall carpeting had not yet been invented.
We always stayed at the Buba Cherkas' apartment. Grandma would never visit Grandpa's family since she hated them except the Zayda who she adored. This started when Grandma was 18 and she met the Buba Lehrman. She was very sensitive about her father's abandoning her, and Grandpa's mother insulted her by saying
"Who knows who you come from. Maybe you come from horse thieves."
This was a death blow. There were further insults, and from then I never knew that side of my family hardly at all. She got along better with Grandpa's siblings so I knew them a little.
Every summer after the local harvests Grandma would go to the Farmer's Exchange and buy bushel baskets of peaches, pears, small pickling cucumbers, green tomatoes and string beans.
Then the kitchen turned into a factory. Frequently Buba Cherkas would be there to help. First about a hundred Ball jars were boiled along with with the fitting rubber caps and either screw metal tops or glass snap on tops. It was canning season. You must remember seeing the preserved fruits and vegetables downstairs in the basement pantry.
This process saved large amounts of money in the winter buying these foods. Then the fruit was cooked, poured into jars and laid on the floor overnight to cool before storing. She made pickled tomatoes as well as little cucumbers - also canned beans.
Grandma worked very hard at home. There were no washing machines so she scrubbed all the laundry by hand on a washboard with hard bar soap. She also repaired Grandpa's shirts by turning the collars so the torn parts were hidden.

Egyptian egg ingredients - 4 slices bread, 4 eggs and 2-3 tablespoons of butter.
Cut hole in bread with cookie cutter. Save hole to make round toast. Melt butter in
fry pan and place bread inside it. Break egg into hole in bread. Cook then flip to other side.
The farthest back I can go to name direct relatives is my great grandparents which are Moshe's, Aaron's and Daniel's great great great grandparents. Samuel and Miriam Esther Targansky who came to America about 1915 and passed away around 1930 (see photograph).
They came because we had twin cousins one of whom was Nathan Gussack. His brother was lynched by a drunken mob of Russian peasants for no reason. After that the whole family left where they had lived for centuries. They left behind three daughters named Leah, Raisie and Sura (English "Sarah") whose families survived the war and everything since. Therefore you have cousins still in Russia.
Samuel was a chasid and wore a beard. Miriam wore a religious wig called a "shaytle". My sister was named for her. Jewish people do that so no name is lost.
Essie was Buba Cherkas' younger sister. When visiting New York we were invited to her beautiful home in Mount Vernon. It was all brick and stood on a small elevation. The living room was filled with decorator couches, antique silk drapes and Chinese porcelains. I had never seen anything like this before.
Adam was named for her husband Boroch. She taught Grandma how to cook so remarkably. She used to make Sunday brunches for the whole family. This is where I first tasted caviar which I still love.
Rabbi Abraham Lehrman was married to Minnie Dinowitz when he was 18 years old. People married in their teens because the average life span at the turn of the last century was 40.
He was the most brilliant student at the yeshiva in Ticotin, Poland; and she was daughter of the richest man in town. Therefore he could continue to study Talmud as her father would support them in his home. It was called "auf kest". That is how Grandpa lived in a large home in a forest with many servants and had a baby bear.
They moved to America to increase Abraham's chances of earning a good living. They were misnagdim, the opposite of chassidim. They were rationalists, not emotionalists. We are descended from the Vilna Gaon, the era's top rabbi. We are 13 generations of rabbis.
Whenever Grandpa visited NY he would see his father who helped him generate ideas for sermons. Also Grandpa would travel down to the old Jewish neighborhood with many bookstores to purchase large numbers of books that gave him ideas for sermons.
In Detroit he would sit every Friday morning at the card table in the family room and write out his sermons while Grandma cooked. He tore pages of paper in half and wrote his ideas on these. Then he would use this to speak from.
Some Small Stories
When I was 10 I wanted a pet. None of my friends had a dog so I do not remember why. However I waited until Passover to get the afikoman. When I got it Grandpa said I couldn't have a dog or cat but I could have two very small turtles.
They were only one and a half inches long and Grandma put them in a glass flower container I named them "Afi" and "Koman". It was perhaps only two days when Koman climbed out of the jar, crawled under Grandma's bed and died. The same fate awaited Afi.
Another vignette. When I was small Grandpa would put me on top of the vacuum cleaner when he helped Grandma clean and I held onto the handle and he would give me a ride all around the house while he pushed.
Family Details
Buba Cherkas went to night school as soon as she came to America as her brothers had already done. She was never a housewife, but always ran a business as I have already written - even in Russia.
Since she sold small clothing items she had access to wholesale businesses, and whenever she came to see us she brought packages of pajamas, underwear and socks for the whole family. Mostly Carter's which was the very best brand.
Two of her brothers were in business together owning a gas station in a very busy corner - that was Joe and Alex. Eventually the city of New York wanted to put a through-way there, and they were paid a large sum for this land. Therefore they became instantly wealthy. Thus money eventually filtered down to you since Grandma received Buba Cherkas' share and I got it from Grandma.
Joe's one daughter had a mastoid operation as an infant. The surgeon touched her brain in error and she became severely retarded. It was a great tragedy. Alex also had one daughter who grew up and attended Smith College. I lost track of her there. Interestingly both girls were named "Marilyn" after Miriam Esther.
Joe's girl died at age 13.
Uncle Harry Targansky was Grandma's favorite uncle because he never married and so devoted a great deal of attention to her. He was a pattern cutter in the clothing industry which means he situated the pattern pieces on the fabrics to save the most amount of cloth. It was probably the most important job in the factory as it determined the amount of profit.
When Grandma got married he gave them a complete beautifully bound set of Charles Dickens books which eventually Norman read the totality. The books are now in my bookshelf at my right. They are bona fide antiques and completely out of print for years and therefore very valuable.
Harry's Yiddish name was Herschel which means "deer" - hence that is Dale's first name in Hebrew, "Zvi" named for Harry.
Sylvia was the Buba Cherkas' youngest sibling. She was three years older than Grandma. Her second daughter Diana was my closest cousin. Diana went to Hunter college as none of the other kids in the family went away to school. She came to Dale's Bar Mitzvah. Unfortunately she passed away from multiple myeloma at age fifty.
Sylvia's husband Ben Dansker ran a paper distributing business very successfully. Again unhappily he had a heart attack at age 52 and died. After that Sylvia ran that large and difficult business by herself until she grew too old.
She lived into her nineties as did Aunt Essie. Both of those ladies you knew. Here I am going to start on daddy's family.
Leo Helman ("Zayda") left Russia amidst the chaos surrounding the Bolshevik Revolution. He was imprisoned with all his friends as an intellectual suspect. Showing them his hands he said, "I am a carpenter look at my hands". They released him and shot all his Jewish friends.
That very day he said goodbye to the family who he later helped to come and was enroute to Argentina.
Leo spent two years in Argentina until the United States allowed him to enter. He learned to speak Spanish. Arriving in Detroit he went to work as a carpenter. He married Bubie at age 27 and she was 18. Everybody laughed that he married someone so young. However they were married 62 years when he passed away from heart problems in Florida.
Their first child Isaac named for his father the baby looked like Leo but unfortunately died at 18 months from some sort of throat virus probably strep throat. Bubie remembered him constantly and spoke of him longingly and lovingly even 50 years later. However soon Eileen, Gerald and Norman were born. Paul was born 7 years after Norman and so was much younger than the others.
During the Depression Zayda made a living driving a truck around Northern Michigan selling delicatessen from his vehicle. After World War II when there was a demand for housing he began to buy land and build homes. He was in partnership with his brother Charlie who Bubie was not particularly fond of.
The happiest times of my life...
When I went to summer camp from age 10 to 12 I never wanted to go home. Suddenly I was not subjected to Grandma's fighting about any attention paid to Buba Lehrman. Also I didn't have to go to school or Hebrew school every day of the week. It was heaven.
Then I was very very happy after daddy and I got engaged. We met on Oct 7, 1956. And we got pinned just before Thanksgiving. Daddy didn't have an engagement ring yet and so used his college fraternity pin to give as a gift. Eventually he used his Bar Mitzvah money to buy a one and a quarter carat marquis-shaped ring set in platinum.
That was my really best time of life. There were all sorts of entertainments in our honor. Many were given at the Knollwood Country Club, a place that wealthy Jewish people joined. I don't think there is anything like that any more.
Bubie made a huge engagement luncheon for me and presented me with a strand of real pearls. Both these jewelry items I still have.
Aunt Essie toured the American West when I was 8 years old and brought me two Navajo Indian turquoise bracelets. I loved these so much that this gift began a lifelong obsession for Native American jewelry and all gemstone jewelry later on. This began my lovely collections that bring me so much joy. When I was 13 the Buba Cherkas gave me a real gold watch and at 16 she gave me a ruby ring. These are all in my bedroom closet now.
When I was 16 Grandpa allowed me to attend the University of Michigan for two years. This was a great deal of money. The next wonderful gift on my list was when I graduated from college Grandpa and Grandma bought me a stereo system and I learned to love all sorts of previously unknown music.
Of course when I got engaged Norman used all his Bar Mitzvah money to buy a ring. In 1965 just before we went into the army Norman gave me the burgundy colored Lincoln Continental. The most beautiful car I ever owned, and when I started flying he bought me Cherokee 8257Golf. My most adored airplane. You have that photo.
Finally Adam gave me several gifts from his travels. The babushka doll from Russia, the gemstone game board and the sweaters from Bolivia.
Dale brought a small emerald ring from Brazil and a sapphire ring once for Hanukkah and a diamond bracelet for Hanukkah three years ago. That is my list of most beloved presents.
The Wedding
I chose August 18 as my wedding day because Norman's cousin Gail was getting married in June, and his cousin Sammy was getting married in July.
Grandpa said I shouldn't get married on my birthday because I would only get one present. However I made sure this never happened. It was a typical hot, sunny, summer day. The shul was built about 1935 so there was no air conditioning. However it was built of large stone blocks that created natural insulation. It was very pleasant the entire time.
[Adam notes: this is NOT the structure I am familiar with from childhood.
It is the "original" B'nai Moshe on Dexter Boulevard.]
The ceremony started at two in the afternoon. Grandpa invited the whole congregation so no one would be insulted by not receiving an invitation. Almost all of them came - it was sure to be a spectacle. And it was 1,500 people. Filled all the seats both upstairs and down.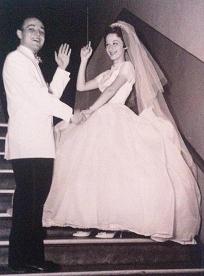 Blossom and Norman
(click for larger version).
Five rabbis officiated including Grandpa's brother Irving from Miami Beach; his brother-in-law Solomon Moseson from Pittsburgh; Miriam's husband (your uncle) Max Lipschitz from Miami. Also the retired former Rabbi Fisher from B'nai Moshe.
After the ceremony people were invited to kiddush. Then all the relatives went home and relaxed until six at night when they reassembled for the grand dinner and dancing. The men in the wedding party wore striped pants, grey vests and cutaway coats for the ceremony and changed into white dinner jackets. Imagine that.
The wedding party consisted of Miriam as the Matron of Honor and Gerry as the Best Man. The bridesmaids were Rhoda Cherkas from Malden, Massachusetts, Shirley Moseson from Pittsburgh, Aunt Eileen and Marilyn Targansky who didn't show up as she had just eloped to California. Her parents also did not come.
The ushers were Norman's college roommate, the six foot five inch Bud Charlip who had Marfans disease. Also Harvey Steingold his teenage best friend. And Aaron Lupovich his very best lifetime friend.
Buba Cherkas walked down the aisle as well as of course Grandma and Grandpa. Uncle Ben Cherkas accompanied the Buba. The two tiny ring bearers were Sandy Lipschitz and Robbie Steingold. They were both three years old. Shelley Lipschitz was the flower girl.
After the ceremony Grandma took Norman and me to the dining area and fed us chicken soup from the same spoon and bowl. It was to portend unity in the future. She called it "golden yoch".
All of Grandma's uncles who were brothers of her father came to the wedding with their wives and all brought hefty checks as gifts. They were Meyer and Anna Cherkas who in 1985 were killed in a Dallas, Texas Delta plane crash caused by microbursts (this word's first use).
Then Barney and Idale Cherkas from NY, he owned a gas station and still drove an antique Cadillac which he called "the king's car". Everybody laughed at that.
Next was Louis and Sarah Cherkas. He owned a large store in Malden. This store was very impressive, the next thing to a full-fledged department store. Also the Buba Cherkas and her two sisters Essie and Sylvia. Also Grandma's brother Ben who became an anaesthesiologist. Also Buba's brother Joe and his wife. And Grandpa's brother Irving and his two sisters Rose and Claire.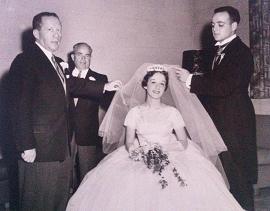 Blossom and Norman with Grandpa at
far left and Zayda behind him.
(click for larger version).
All these guests had to be fed by Grandma. She prepared like there was no tomorrow. The kitchen was running night and day. People slept on couches and between blankets on the floors. I have not included the guests from Chashkas' side.
[Chashka is the "Buba Lehrman", Grandpa's mother.]
We went on two one week trips after the wedding. The first was to upper Michigan around Copper Harbor to visit the area. Since I had lived my adult life in Detroit I had never been there.
Then we went to the Concord Resort Hotel in Monticello, New York in what was called the "Jewish Alps" - actually the Catskills. It was an enormous hotel that was totally kosher and always very popular and occupied.
Before the 1960s civil rights movements Jews were not allowed in fancy hotels just as they could not get into medical, dental or law schools. Hence the pre-1960s need for independent, Jewish-managed hotels. The Concord no longer exists.
There was a token Jew like a token black. And plenty of us remember that when Grandpa got into Tulane Medical School in 1929 it was an incredible thing. He was the only Jew accepted. He didn't go because he wanted to marry Grandma instead so he became a rabbi.
You would not be here had he become a doctor. He would have stayed in New York.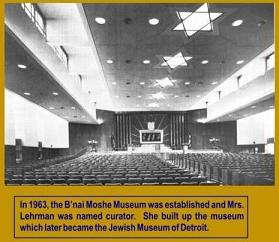 Main auditorium of the Oak Park
synagogue and a description of
Grandma's efforts in creating
a Jewish museum (click for detail).
When we returned from our honeymoon we found Grandpa had two unique problems I had never heard of. First he had overstepped spending limits and needed money to pay the wedding bills. He asked me for a $2,000 loan to be repaid as soon as possible. I did this and he refunded me the next month.
I was shocked to know such a thing since in my whole life Grandpa never owed anyone money; and Grandma was such a skinflint she always had saved money somewhere.
The next problem was that a group of shul members wanted to merge with Sharey Zedek to avoid constructing a new building in Oak Park. This would put Grandpa out of a job. He was 50 and would have been considered well over-the-hill and probably would never get another job and so how would he make a living.
He organized some friends who fought back and began making speeches to raise money for a building fund. As you know the new shul was built across the street from our home at 25060 Kenosha. Unfortunately the city of Detroit eventually bought both our house and the shul, tearing them down to construct an expressway. I can hardly speak of this. The shul was the crowning glory of all Grandpa/s hard work on Earth and now it is barely a memory. I will never return to Detroit again because of this.
At the same time Grandpa made the acquaintance of several unique people. Tex Colbert was the top official of Chrysler Motors. They developed a friendship, and Grandma invited him and his wife for dinner she served her usual incredible Jewish delicacy meal, and I recall how impressed they were. The invitations went back and forth until Tex left the company.
Grandpa also became friends with Governor George Romney. They had occasional lunches together and I have the pictures to prove it.
When I got married two front rows on the shul's left side were reserved for dignitaries and several came including judges, district attorneys and we received congratulatory letters from the mayor of Detroit and of course the governor.
Eileen said this was not a wedding. It was an EVENT.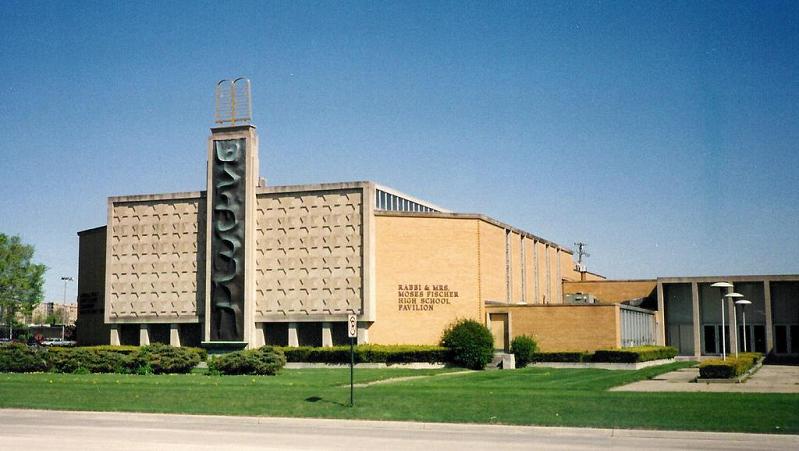 Congregation B'nai Moshe relocated to suburban Oak Park in 1959 when this new building was dedicated.
It currently houses an Orthodox Jewish High School (click for detail).
Apartment and First Home
After the two trips Norman and I moved into our first home, an apartment on Schaeffer Street. I was working as a high school English teacher at Mumford High School made famous by Eddie Murphy; and Norman was a senior in Wayne University Medical School. When he graduated he was elected to the medical honor society Alpha Omega Alpha which was of course a great achievement.
I was supporting us with my income.
Our bedroom set was a gift from Grandma, and the living room couch and two chairs were a gift from the Buba Cherkas. The dining room came from Chashka. All of our dishes and silver and pots and pans were shower gifts from shul members. So we were completely outfitted by gifts.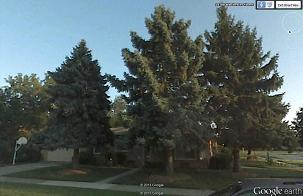 Grandma and Grandpa's Oak Park home
as imaged from space (click for detail).
After about six months I began to look for a house near the new shul since everyone had to walk there on Shabbos. The home on Kenosha street cost $21,000 plus I added some wallpaper and drapes. And so I used my saved money from before I met Norman to pay for the downpayment. Originally I was going to buy a sports car but that has been permanently thwarted.
We lived there until Daddy was drafted in 1967. And now is has been destroyed including the two trees Daddy planted the nights you and Dale were born.
About two months later we moved into Kenosha. Grandpa bought their dream home on the corner of Winchester and Gardner Streets in what was a very posh area and only one block from the new B'nai Moshe that was still under construction. It was very upscale to buy a Markel-built home with thin expensive Roman brick on a large corner with double-paned Thermopane windows, an immense basement that had a bathroom in case there would be a recreation room there and an attic for storage.
Grandma now had five closets just on the main level for storing her immense clothing collection. They paid $35,000 for what would now cost over a million. Grandma repainted her refrigerator pink to match the new kitchen and kept it for the coming 35 years. They were thrilled, this home was one of the glorious highlights of their lives.
In 1964 Lyndon Johnson was elected President of the United States and invited Rabbi and Mrs. Moses Lehrman to the inauguration ceremonies in Washington. It was bitterly cold and Gerry Helman loaned my father a set of long john underwear so he could witness the outdoor procedures. They also went to the inaugural Ball where the President noticed my mother and invited her to dance. He complimented her dress and she told him she had knitted it herself. He was very impressed. They were both so elated and thrilled by this event.
Dale and Adam
When Dale was born the following July they made an enormous bris, inviting over a hundred people including all the heads of Sinai Hospital where Norman was an intern.
Sadly in December 1958 the Buba Cherkas died from rheumatic heart disease. She was buried in New York on a cemetery for the Landsmen of the town they came from in Europe. So at age 23 I no longer had any grandparents.
Dale was a superb infant he almost never cried. He enjoyed viewing the world around he was always amazed. When he was five months old I noticed if he cried there was an associated lump on his abdomen. It occasionally showed up on both sides. His pediatrician arranged an operation at Children's Hospital and Dale had a bilateral herniectomy.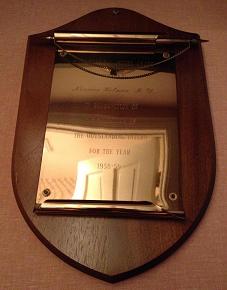 "Norman Helman M.D.
IN RECOGNITION OF
HIS SELECTION AS
THE OUTSTANDING INTERN
FOR THE YEAR
1958-59"
(Click for detail.)
Adam was only partially born when Norman said, "It's so fair!" Adam had almost white blond hair.
Ten days after Adam was born on the night that Jack Kennedy was nominated for President it was Dale's first birthday and we got him a small plastic swimming pool. From this he began having ear aches which continued until we left the allergic area of Detroit.
Adam cried constantly he was never happy we took him on car rides in our tiny Renault car moving him but even that didn't work. Soon Norman received an Outstanding Intern For The Year award which still hangs in the hallway.
Adam had bowed legs like a cowboy and an orthopedist Dr. Kamil put metal leg braces on him which corrected this about 75 percent.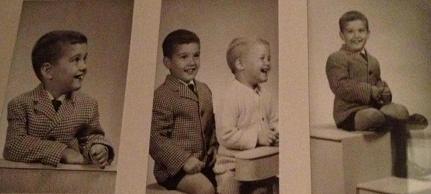 Dale and Adam as toddlers (click for detail).
During this time Grandma's brother Ben Cherkas passed away at the untimely age of 48. She was very upset. However she and Grandpa were more upset when Miriam was diagnosed as a schizophrenic.
When Dale was three years old he liked to stand in the corner of his crib and rock it back and forth which moved it across the bedroom. Simultaneously he would add and subtract numbers. One day he said I know how many seconds there are in a day and he gave me a number. I was astonished. It eventually proved to be correct. Thus I knew he was very unique.
Soon Adam was also playing in his head with numbers. Adam found in Bubie's house a copy of Norman's Handbook of Chemistry and Physics. Adam fell in love with this book and spent many hours pouring over the pages and absorbing information.
When they got to Hillel Day School the principal Rabbi Murciano informed me they both had the identical IQ although obviously their appearances and personalities were different.
Eventually in the first grade the teacher sent home a report card for Dale that said "Immature. Talks too much." Obviously that all changed. Also the report about Adam was that he preferred his own company and would go off to play alone instead of joining the others. Interesting at the time but of no consequence.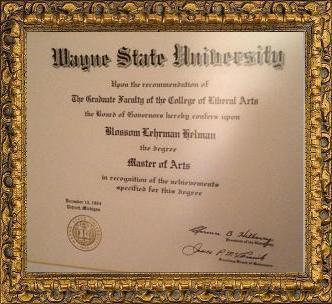 Master of Arts degree
(click for detail).
Occasionally Adam would become upset enough to hold his breath and after two minutes turn blue and faint. He began this behavior at age 3 and stopped after starting first grade. Once Grandma was watching him at her house and he began this breath holding. She became terrified thinking he was dying and picked him up in her arms, ran outside and began screaming in Yiddish "Menchen giv helf" which means "people give help".
Many neighbors ran out of their homes to assist but of course he quickly recovered. After that she would never watch him again. Aunt Bessie revealed that Leo did exactly the same thing when he was that age so it was an inherited thing.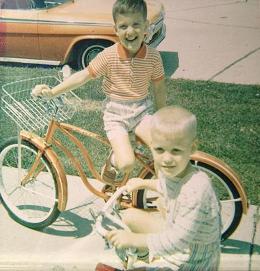 Dale with bicycle and
Adam in front.
(click for detail).
At about the same time Grandpa's alma mater Jewish Theological Seminary bestowed upon him an honorary doctorate - the first of its kind in their history. He was then legally allowed to write his name "Rabbi doctor", Which I think he never did.
During the next several years Norman completed his Internal Medicine residency and also the Hematology Oncology residency, the latter because he was invited to join a prestigious hematologist in practice. Which he did. Eventually he separated from them when he was drafted into the Vietnam war.
Simultaneously I would leave the house about six at night two days a week for driving to Wayne University and completion of a Master's degree which I did in 1964. Norman would come home from work early to feed and bathe the little fellows.
The Army Draft
In 1967 Norman was ordered to report into Fitzsimmons Army Hospital in Denver. He entered the army as a captain, was elevated to major within a few months and after a year became a lieutenant colonel. They raised him rapidly as he was in charge of the entire Nuclear Medicine unit. Since he wasn't trained in this he taught himself for several months before leaving. He spent every evening learning the math and physics of a totally new specialty.
While alone in Denver for basic training he bought a small townhouse for us. I was in charge of selling the house in Oak Park and the Buick car that he drove.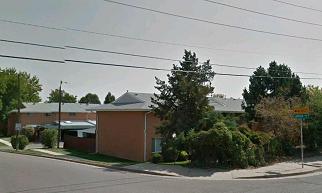 In Denver we lived in one of
these red brick townhomes
(click for detail).
I unfortunately sold Norman's car to a well-known thief who never brought the cash after test driving and then leaving with the car. The police said they knew exactly who this was.
They were very kind to me because they knew Norman had been drafted into the Vietnam war and was in basic training in Denver. The next day I went to the station and the police had a paper bag filled with 750 dollars. This was a great deal on money at the time especially to me.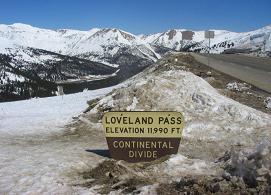 Loveland Pass typifies
Colorado's mountain scenery
(click for detail).
Detroit was in a civil war when Norman returned for bringing the family to Colorado. There were armed snipers above the freeway overpasses; and as I drove to the airport for getting him slouched down far in my seat to avoid a possible gunshot.
I had packed everything and put a lot in storage and we set out. I had never been farther west than Wisconsin and therefore everything was new - and the same for Norman. Viewing the Rockies from a distance of a hundred mikes was a total amazement including for the little boys.
Norman and I did not want to go into the army. He had to sell the hard-earned medical practice which was gathered patient by patient. We sold our home and closed our bank accounts and put our best furniture into storage.
Norman even went to Washington to explain that he was a hematologist and sending him to Vietnam was a waste of resource. So they made him the chief of Nuclear Medicine at one of the biggest army hospitals in spite of his never having trained in this.
Denver, Colorado and Touring the West
However as it turned out those two years in Denver changed everyone's life. After visiting so many national parks and forests I never wanted to go back to Detroit. So I convinced Norman to accept the offer of a friend and see Kaiser Permanentee in the San Fernando Valley. Obviously we accepted their offer which included the promise that he would not have to work on Shabbos - and all this in spite of the army's offer that he would shortly become a general if he stayed in.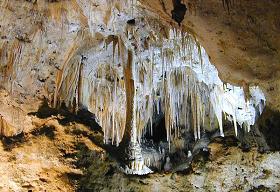 Carlsbad Caverns interior
(click for detail).
The children were enrolled in the local Hebrew day school, and the next two years were very exciting seeing Yosemite and Sequoia National Parks - places that became my lifetime favorites.
Upon reaching Denver we bought a Volkswagon Campmobile. It cost $2,500 dollars and today it would be 25,000. Amazing. Gasoline was 19 cents a gallon which gives some estimation of values at the time.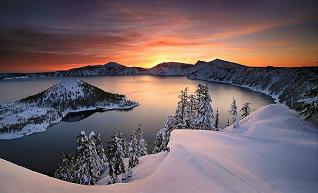 Crater Lake with Wizard Island
(click for detail).
Norman earned 11,000 dollars a year as a light colonel. That was down from about 25,000 as a specialist in Detroit. Also we had to pay for day school. Norman was an excellent driver and could go a thousand miles in one day if needed. He was probably the best driver I have ever been with.
He was given a month vacation per year and we took the little bus all over the west. At Zion National Park in Utah at a campground on the Virgin River Adam took a wrong turn coming home from the bathroom and got lost. Norman and I were frightened and ran all over asking if anyone had seen a small blond child with glasses. Finally he returned by himself.
At Carlsbad Caverns National Park Adam was very upset by the pitch darkness in some of the rooms and had to be carried for the entire two hours by Norman. At Craters of the Moon in Idaho Norman built a campfire to cook dinner. Adam got too close and singed his hair.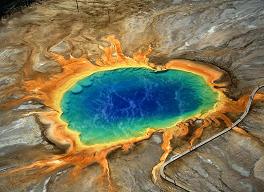 Grand Prismatic Spring in Yellowstone
National Park (click for scale
using tourists on boardwalk).
All four of us slept in the little bus when we visited the west. Dale slept on the front seat, Adam slept in a removable sling across the vehicle's length; while Norman and I slept in the back in sleeping bags after lowering the back seats. It was actually very comfortable and was among the happiest times of our lives.
We would put the boys to bed on the living room floor in the evening and wake up at 4 or 5 in the morning, carry them out to the bus and lay them in the back. They would wake up at 7 after the sun arose. This is how the four of us became acquainted with the world.
We saw all the great parks I had been hearing about all my life. We didn't know then that Yellowstone was a supervolcano which caused the hot pools. Norman lost his Italian straw hat in Morning Glory pool that his brother Gerry had given him. My best remembered were of course Old Faithful and Clepsydra. We were warned about bears so we walked through the trails yelling "zeckelee! zeckelee!" as loud as we could to scare away any bruins.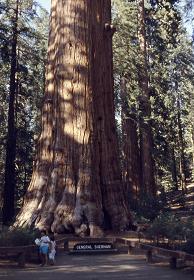 General Sherman -
Earth's most massive tree
(click for detail).
We visited some unique places like the petrified forest and redwood forests and sequoia forests. Every hour was an adventure especially since the bus could barely climb the sides of mountains and chugged all the way up.
Here are my favorite memories from our western travel years. We went in a large rowboat across Crater Lake to visit Wizard Island. It was extremely cold and we were covered in many blankets. This was the caldera of Mount Mazama. There's also Mount Rainier, a famous peak with visitor center that the bus climbed to with difficulty.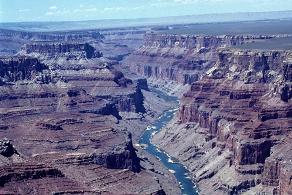 Arizona's Grand Canyon
(click for detail).
Also driving along Going to the Sun road in Glacier National Park which borders on Canada. A spectacular trip and one which I would have been frightened of before Norman started driving us around Rocky Mountain National Park which was close to our home in Cherry Creek. Also I fell in love with General Sherman and General Grant - the two most famous giants in Sequoia. I still miss those barked friends.
In Colorado I got a position teaching at Englewood High School. I didn't enjoy this since the population was a collection of dullards and left after several months.
After we got to Northridge, California we traded the little bus for a Ford stationwagon and life was never as much fun again although we did continue to see the west for many years. This is how and when Adam fell in love with mountains and also Dale. Because the bus didn't have air conditioning, when we passed through Moab, Utah and the temperature was around 120 degrees I was covered with wet towels. Although Norman didn't mind.
Moving to California
The good times all are gone and we're bound to moving on. In May of 1969 Norman was mustered out of the military and we moved to the San Fernando valley. We bought a large home in Northridge and stayed at the Tahiti Motel until the construction was complete. During this time the astronauts landed on the moon, and we all watched in amazement as it was broadcast on television.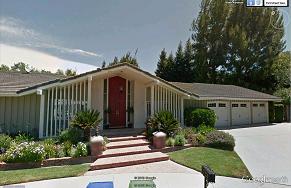 Northridge home with large backyard.
It was painted yellow when we lived there.
(click for detail).
After moving to our new home we experienced several calamities. First there was a plague of crawling worms. Thousands came into the house from the backyard. Also black widow spiders began coming out of the electrical outlets. Then the Santa Ana winds blew off half of the roof and I threatened suing the builder to repair this.
Next came the earthquake of 1971 and we had no water or power for over a week. The police drove by with bullhorns telling us to evacuate because the Lower Van Norman Dam had cracked but we didn't leave. We slept all four in one bed for safety. Grandpa said return to Detroit but I still would not leave.
The children were sent to Emek Day School but that was only for one year since Dale said he wanted to be like the other kids and go to public school.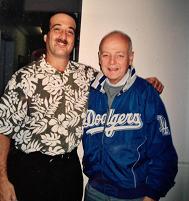 Dale and Norman with
his favorite jacket
(click for detail).
Norman began the arduous task of training both boys for their Bar Mitzvahs. Every night he would sit with them and learn the trop (melody for Torah-reading), Ethics of the Fathers and the weekly Torah portions. He did a superb job.
This was after he translated a book about his parent's birth town in Russia. Eventually this book was sold to members of the David-Horodoker Organization in Detroit and they made a bit if money.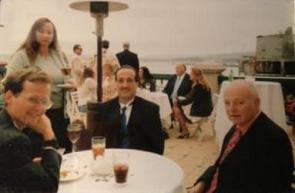 Dale, Adam and Norman
(click for detail).
Both the children's Bar Mitzvahs were held at Grandpa's shul in Oak Park, Michigan. They both learned very well and had lovely parties. Dale distinguished himself by reciting his speech backwards. It was hilarious. I laughed more than ever in my life.
However a few years later Grandpa began complaining of tiredness every afternoon and taking naps. He went to the doctor who scheduled an operation. Norman went to Detroit to be present for the findings. Grandpa had histiocytic lymphoma, a cancer of the spleen. Chemotherapy was begun not to much avail. He passed away in 1977. The funeral was held at the shul which had never been done before.
When the casket was carried a thousand people there assembled stood up. The police departments of 4 small cities were along the road leading to the cemetery. At least one parishioner tried throwing himself into the grave with Rabbi Lehrman. And so I was now almost alone in the world.
Children's Education and Career Paths
Within a few years both boys graduated from Granada Hills High School and continued on to UCLA. They both lived in Westwood and for a short time together again. They both graduated from college Phi Beta Kappa. I was thrilled that they had both done so well. Norman had been also Phi Beta Kappa years before.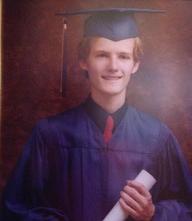 Adam concludes high school
(click for detail).
Dale had a hard time being accepted in medical school because at that time graduate schools had to primarily accept women and minorities. But he received an acceptance letter from the University of Chicago, a highly prestigious school, and I was so happy that I ran round and round on the street when I opened the letter. It was March 4 1980. I will never forget.
Adam was accepted almost immediately at the University of Michigan where Norman and I had both attended.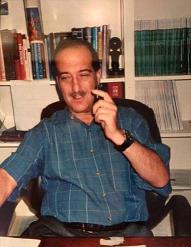 Dale at work in one of
his clinics (click for detail).
At the same time period Norman and I began traveling overseas. We visited Israel, Portugal and Madeira; then Sweden, Norway and Denmark. Also Switzerland, France, Italy and Spain - taking Dale along as a graduation treat. We stayed at Gerry's mansion in Geneva as he was then the Ambassador to the United Nations.
In 1977 Adam and I went to England, Scotland and Wales. Norman was scheduled to go but he stayed home to study for the upcoming Nuclear Medicine Board exams. Adam and I had an unforgettable good time and when we returned the score results had arrived and Norman had passed. He said that was a very good thing because he could not retake those tests since something had changed in his brain. He was not as smart as he had been. Norman was 43 years old and that was a precursor to his later disease.
One summer while in medical school Adam attended Outward Bound in Colorado where he gained mountain skills. He hung over a cliff all night long and that was a precursor to his later life.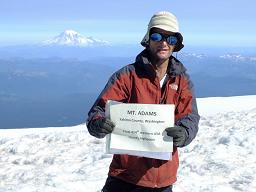 Adam atop Mount Adams -
the final 414th county top
(click for detail).
After Dale graduated from medical school he was accepted at the Mayo Clinic as one of only 5 to study neurosurgery. After several months there he left because of mistreatment and finished his Neurology residency in Minnesota. He was then invited to practice in Salinas, California which he accepted and has been there for almost 30 years.
Adam did not enjoy medical school and finally left after 2 1/2 years to earn a Masters and a Doctorate in Chemistry at University of Michigan. He subsequently worked at Cal Tech under a Nobel prize winner. Then he designed computer software and finally became a full time website master which he loves along with frequent climbing adventures.
Adam achieved immense status among his mountaineering friends by being only the second person to reach the highest peak for each of the western United States' 414 counties. It took him about 12 summers to complete this remarkable feat, and he is writing a book about this experience.
My Flying Days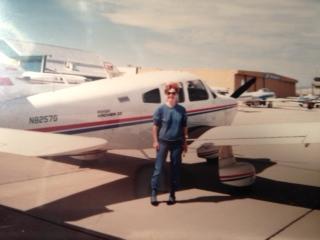 N8257G and myself

After Norman and I moved to Encino I decided to take flying lessons. I was recommended to start at Bud Walen Aviation he was an elderly gentleman who had been flying since the earliest days and personally knew several of the most famous aviators.
In 1986 I began flying left seat as a student pilot. This was a very difficult goal since the older one becomes the more difficult it is to master such a skill. However I persevered and got a private pilots license and subsequently at various other schools an instrument rating which would allow me to fly in precarious weather.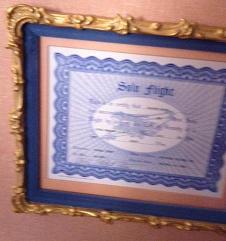 "Solo Flight" (click for detail).
Then I continued and earned a multiengine, a commercial, a floatplane, an instructors certificate and finally an instrument instructors license (CFII). Such a great thrill. Such a major accomplishment for a middle aged previously non technical lady.
Norman allowed me to buy my own personal airplane a Piper Archer with call sign N8257G ("Golf") that was so classy it even had air conditioning. I travelled all over the US in this beautiful vehicle it cost $60,000 and years later I sold it for the same amount.
Bud Walen wanted to retire and I decided to plunge in and purchased the FBO (fixed base operation) With Greg Lewis as my partner who was FAA examiner. I went into business, never made any profit and yet never lost any money but had an amazing learning experience and a superb adventure. I owned many aircraft including a Seminole twin engine and a Cherokee 6.
I went out of business in 1995 and all my planes were sold.
Dale's Family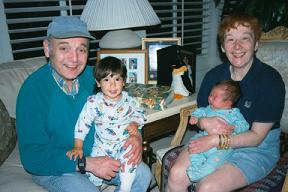 Blossom with Aaron, Norman with Moshe
(click for detail).
My mother died in April 1993. I am now an orphan, however thank God I have lovely children and a husband. She had multiple strokes and was 82 years old. Nowadays that is still quite young.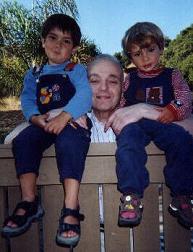 Norman, Aaron and Moshe
(click for detail).
Simultaneously in 1993 Dale bought a magnificent home in Spanish Bay and furnished it sumptuously. Most of those tables and chairs are still in use at the Pepper Canyon Ranch where the family moved several years later.
Happily in 1997 Dale married Dana Mills. She was a schoolteacher, chosen as Teacher of the Year and sent to be entertained at the White House. Nowadays she concentrates on business management and overseeing all 7 children.
When they married she already had 4 pretty little girls - Elizabeth, Rachel, Rebekah and Julianna. They were all very young and have since all married and became Elizabeth Thomas with 3 children, Rachel Sampson with 2 children, Rebekah with 3 children and Julie with one.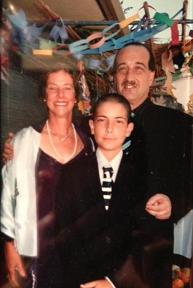 Dale, Dana and Moshe at his
Bar Mitzvah (click for detail).
Moshe Ari was born September 9, 1997 and named after Rabbi Moses Lehrman and Leo Helman his great grandfathers. Aaron Benjamin was born April 18, 1999 and was named for Dr. Benjamin Cherkas, my mothers brother. Daniel was born September 19, 2000 and was named Daniel Joshua Shoshan after my mother Rose which in Hebrew is "Shoshana". Now the family is complete and Dana's license plate reads "Da Mama 7".
Pictures of
Dana
Elizabeth, Rachel, Rebekah, Julianna
Moshe, Aaron, Daniel
All Alone
In 1989 Leo Helman my father-in-law who dearly adored "Normie" passed away. He was 89 years old and had a longstanding heart condition. A few years later Anna Helman my mother in law moved back to Detroit from Florida where she had lived for over 20 years.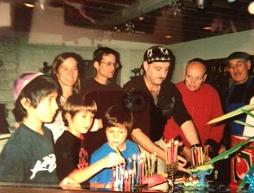 Hanukkah 2008. Close friend
Jeff Siegel (viewer's far right)
always prepares the latkes
(click for detail).
During the time I was operating an FBO aviation school Norman and I finally visited Hawaii and cruised to Alaska, two places my parents never saw. I remember when my father became ill he was planning a trip to Africa. He so loved to see the world.
In 2001 my sister Miriam Esther passed away in the halfway house where she had resided for many years. She had a weakened heart and probable lung carcinoma from a lifetime of heavy smoking which doctors allowed, it seemed to alleviate schizophrenia.
So now my entire family was decimated. Slowly all my aunts and uncles and Norman's aunts and uncles including my closest ones. Essie and Sylvia were gone. However I have my beloved children and little boys and girls.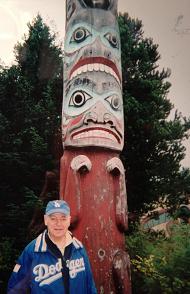 Norman and totem pole
in southeast Alaska
(click for detail).
In March 2004 Anna Helman fell next to Eileen's home and never fully recovered. She also passed away that year. Such a loss. She is still missed.
Daddy's Downfall
Norman frequently gave lectures at Kaiser Woodland Hills Hospital since he was the Chief of Nuclear Medicine. He also had three other academic certifications in Internal Medicine, Hematology and Oncology. He would use all of these areas in his speeches. Once the doctors were so impressed after he finished they stood up and cheered and screamed and shouted as if at a ball game - it was a remarkable occurrence.
In 1995 Norman reported that his thumb was twitching. He said he was afraid it was Parkinson's disease I said stop looking for problems and forget it.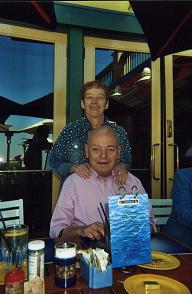 Blossom and Norman's
FIFTIETH wedding anniversary.
(click for detail).
In 2000 Norman was 65 and therefore required to retire from the Kaiser partnership although physicians in private practice often go on until over 80. He was now working 3 days a week as an independent doctor. He asked me to take over writing the checks because his mathematical skills were declining.
In 2001 we went to Sequoia Park with Adam and he said I can't go on the trails alone I am going to get lost. He asked me to direct his driving because he could not hold a lane. In 2002 he sideswiped a truck on the freeway and we bought him a new car which he kept scraping on pillars at the health club. He said I think I have Alzheimer's disease but I don't want to find out because there is nothing to be done.
In 2004 March 3 two doctor friends said he would have to leave medical practice because his odd behavior was becoming noticeable. He called me immediately and that afternoon we cleaned out his office of all personal items after 46 years. We had a PET scan which Norman read himself as he was the Chief of Nuclear Medicine. Pointing, he said I have Alzheimer's and we went home. Norman sat down in his favorite chair and started to cry. I pointed at him and said "Stop that right now. I am going to be with you every moment and you will live a long time."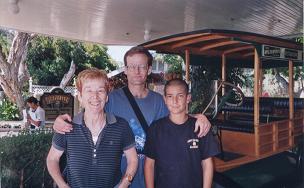 Blossom, Moshe and Adam at the
Apple Farm Hotel (click for detail).
And so it is still. He stayed at home until 2008 when he went to live in a board and care for 2 years, and currently is at a very competent nursing home that has round-the-clock registered nurses watching him. I am there every day rain or shine winter or summer.
My Favorite Things
Books include And it Came to Pass - a collection of Jewish legends by Chaim Nachman Bialik given to me at the age of 10 when I won a speaking contest. Alice in Wonderland by Lewis Carroll which Norman would read to me if I was sick. Catcher in the Rye by J.D. Salinger; The Many Loves of Dobie Gillis by Max Shulman; The Chosen by Chaim Potok; and The Slave by Isaac Bashevis Singer. Science fiction by Isaac Asimov. Main Street and Babbitt by Sinclair Lewis. The Source by James Michener; and I am a Camera by John Dos Passos.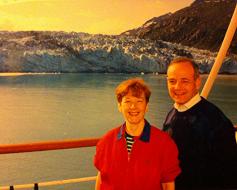 Blossom and Norman cruised
Alaska's Inside Passage
in 1995. Note the glacier.
(click for detail).
Favorite artists - Renoir, Chagall and Modigliani. Favorite sculpture "Moses" and "David" by Michaelangelo. Favorite music - Peter and the Wolf by Prokofiev; Schubert Trout Quintet; any Mozart horn, oboe or clarinet concerto; most Haydn clarinet concertos or symphonies. Beethoven Waldstein or Emporer piano concertos. Folk singers include Pete Seeger, Joan Baez, Bob Dylan (who always sat next to Norman at Chabad on Yom Kippur) and Theodor Bikel.
Favorite places are Venice and Florence Italy. Sequoia, Yosemite, and Yellowstone plus most national parks and monuments. Also the Apple Farm hotel in San Luis Obispo and the drive north from LA to Monterrey.
Favorite foods are pizza, linguini with tomato sauce, ice cream, lemon meringue pie and chocolate pudding. All very commonplace. Favorite colors are peach, pink and red. Favorite people are the children and grandchildren although I miss my parents and grandmother Cherkas and Aunt Sylvia.
A few more books worth mentioning. Marjorie Morningstar and Don't Stop the Carnival by Herman Wouk; Goodbye Columbus by Phillip Roth; Exodus by Leon Uris and The Pedlocks by Stephen Longstreet.
Next are my favorite movies. Now Voyager with Betty Davis and Claude Rains. She is my favorite actress while he is both an orthodox Jew and my favorite actor. The Wizard of Oz. Top Gun because of the authentic flying scenes. Remember I am a CFII. Jumanji plus Willy Wonka and the Chocolate Factory; How Green Was My Valley and Chariots of Fire.
My Days
I am almost 78 years old. Very astonishing even to me - I wake up every morning and can hardly believe this. I still take care of my small home by myself since I refuse to pay other people for not doing as good a job.
I manage all financial family matters. I drive a fair distance to and from visiting Norman and am with him every day. I walk a couple of miles daily by order of my doctors and I play daily with my iPad seeing what all my relatives are thinking. Here I must thank my beloved friend and companion Adam Jared Helman for insisting I become acquainted with virtual pursuits - also for organizing and coloring this treatise. Without him it would not have been accomplished.
I also thank those of you who spent time to read my family's abbreviated history. My parents and grandparents poured blood, sweat and tears getting to America. The Golden Land. Rabbi Lehrman delivered funeral orations in the broiling heat and freezing cold to earn a living; and so did Leo Helman doing carpentry in horrendous weather.
And so I wish you all my children and grandchildren
May the road rise to meet you.
- An Irish blessing
** and **
May you live and be healthy to 120 years.
- A Jewish blessing
&nbsp &nbsp &nbsp &nbsp Love Love Kiss Kiss,
&nbsp &nbsp &nbsp &nbsp &nbsp &nbsp &nbsp &nbsp &nbsp &nbsp &nbsp &nbsp &nbsp &nbsp &nbsp &nbsp &nbsp &nbsp &nbsp &nbsp &nbsp Mommy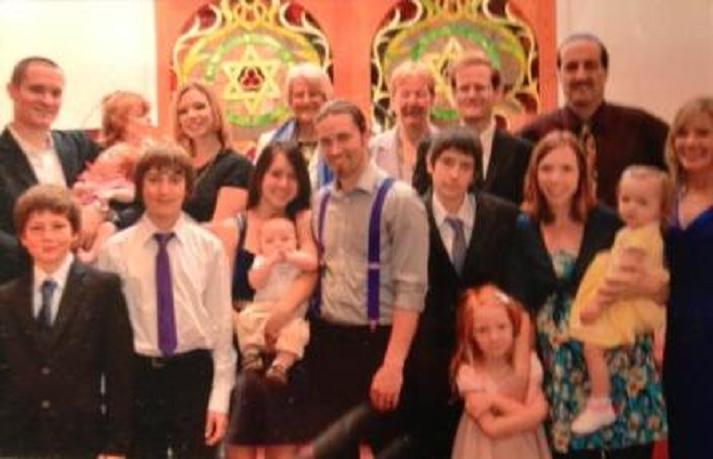 At Aaron's 2012 Bar Mitzvah we have in the front row from viewer's left -
Daniel, Aaron, Julianna with husband Andrew and son Sage Wesley; Moshe, Rebekah with daughters
Isabella (standing) and Dana Marie (in her arms). Back row (again viewer's left to right) -
Rachel with husband Mike and daughter Alyena; Dana's mother Pauline, Blossom, Adam, Dale and Dana.
---
---
Addendum (by Adam)
It is wholly fitting that I created and refined this web page while seated at Grandpa's desk where he wrote innumerable sermons for his congregation. From here I have written enough to fill volumes of books, yet nearly all of it in electronic format for benefiting an eclectic subset of the climbing community.
The intended audience has changed radically, yet the desire to share knowledge for the greater good remains intact.
---